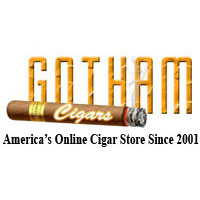 This leading US cigar store is offering quite the opportunity to cigar enthusiasts to buy these little cigars at the best possible prices on the market by saving 27% at Gotham
Miami, FL (PRWEB) November 25, 2012
Gotham Cigars, a one-stop shop for buying high quality premium cigars online, is now offering an amazing deal - $5 off on All Winchester Little Cigars. These little cigars are a perfect choice for any cigar lover and are available at Gotham for just $39.99. The Winchester Little Cigars are offered in Full Flavor and Menthol in the Kings Size and Full Flavor, Lights, Sweets and Sweet Lights in the 100 sizes.
This leading US cigar store is offering quite the opportunity to cigar enthusiasts to buy these little cigars at the best possible prices on the market by saving 27% at Gotham. Other well-known cigar brands offered at Gotham are: Captain Black Little Cigars, Dutch Treat Little Cigars, Erik, Gold Rush Little Cigars, Muriel Little Cigars and many more. Gotham is excited to extend this opportunity to shop for favorite brand-name cigars at amazingly discounted prices.
Gotham Cigars offers incomparable values on the freshest products on the market. They work directly with various manufacturers like Swisher Sweets, Arturo Fuente Cigars, Rocky Patel cigars, CAO and many more. Extensive choices of premium cigars consisting of more than 150 different styles and brands including 30 different brands of machine made cigars are available. They are constantly searching the internet to find new and valuable deals on cigars and accessories to keep their customers satisfied.
Gotham Cigars is America's leading online cigar store since 2001. A massive inventory of superior traditional cigars, affordable flavored cigars, highly ranked sticks from Cigar Aficionado, and daily deals allow customers to try some of the best cigars on the market at rock bottom prices. Gotham is a division of a larger nationwide wholesale tobacco company, which is why they are able to carry a sizable inventory. All of their cigars have been thoroughly inspected by their manufacturers prior to arriving at the facility. To find out more log on to http://www.gothamcigars.com