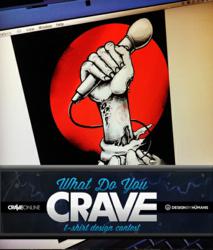 Crave the Grave Contest winners announced from the Live Design Contest at SXSW
Chico, Ca (PRWEB) March 21, 2013
Design By Humans announces the winners of the Crave Online contest, the "What Do You Crave" contest winners are now available as t-shirts. Design By Humans and Crave Online teamed up to create an epic night full of music, live action design and fun at SXSW in Austin, TX. The event featured two artists, several bands, and a live art battle themed, "Crave The Grave."
The top 3 winners of the Crave contest produced some amazing t shirt designs. The international winner from the Philippines goes to the "The Dark Officer." This is a robot looking soldier that is on guard with a small pink rose popping out of his pocket.
Last Wednesday, the two US contest winners battled it out at SXSW. The result of the live contest was intense as both designers produced great designs and had a lot of fun. Both of the entries are now available as t-shirts; the first is "Thanatos," a hand drawn illustration with a skull, butterflies, and roses. This design includes great textures and details featuring a deathly skull still life. Finally, the third place winner is "The Undead," a portrait of a decaying pink zombie.
The contest was a special feature at SXSW with the Design By Humans Street Team, and Crave Online. As Crave Online provided the entertainment, interviews and venue; Design By Humans host the design contest and handed out free shirts. The two designers had Wacom pens in hand, in front of a band, and battled it out for 90 minutes. The end result was two great pieces of art, a great time at SXSW, fun meetings, new fans, and checking out new trends. The three winning designs can be purchased at DesignByHumans.com
The winners received $1000 in prize money as well as a featured printed t-shirt from Design By Humans. The event was hosted at Rusty's, located at 405 E 7th St. in downtown Austin, TX. The design contestants had 90 minutes to design a winning t-shirt, in a live action design contest. Both designs were equally good, so everyone ended up winning. The trend setters, entertainers, fashion gurus, stylists, music lovers, artist and fun loving people made up a day and night a great fashion design and music. Check out the action on Design By Humans FaceBook
Design By Humans is an online community of t shirt designers and fashion lovers. Everyday a new t shirt is released into the world as a Shirt of the Day contest winner. There are also the Collective stores featuring individual artists designs. There are over 1000 t shirt designs to choose from, with everything from funny, cute, abstract, and fine art illustrations. On DesignByHumans.com you can shop cool t-shirts, communicate about t-shirt design, and read a blog about the newest trends, design, tips, and sales.