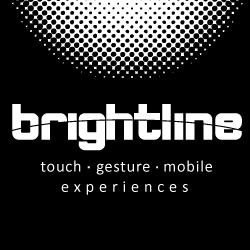 We're finally introducing our Social Machines to SXSW, displaying our unique skills set that fuses or embeds shareable, personalized experiences with branded content
Austin, TX (PRWEB) March 05, 2013
Brightline Interactive announces the deployment of their Social Machines at South by Southwest (SXSW) 2013. The experiential marketing agency will showcase several Social Machines at the premiere interactive, music, and film convention, to be held March 8-17th in Austin, TX. This is the second stop of Brightline's Social Machines tour, having just returned from Super Bowl, and heading to Final Four next month.
Social Machines are turnkey experiences that translate digital actions—such as tweeting or RFID scanning or Instagramming—into a physical result, and vice versa. They are conduits of personalized experiences, both pulling in content from the cloud or through user opt-in sharing, as well as pushing out content, producing a physical or digital result. Tracking and data capturing are inherent to Social Machines, resulting in measurable, memorable experiences for both the consumer and the brand.
"We're finally introducing our Social Machines to SXSW, displaying our unique skills set that fuses or embeds shareable, personalized experiences with branded content," began Erik Muendel, CEO and Creative Director of Brightline Interactive. "With a recent return from the Super Bowl, where we introduced some of our Social Machines to crowds in the hundreds of thousands, Brightline's Social Machine presence at SXSW is a natural progression and perfect fit for an event as important and innovative as this one is to the industry."
While at the Super Bowl, Brightline's Social Machines included a branded karaoke experience for the sporting event's presenting sponsor, Pepsi, which created an instantly-accessible YouTube video. Another Social Machine, created for Doritos, allowed users to embed his or her face into an iconic commercial, forming a customized video which can be shared on Facebook and Twitter or sent to friends via email. In addition, a Twitterbuild, which was projected onto large, branded community screens, featured hash tags promoted by a major credit card company to attract users both on-site and via satellite location.
Social Machines were created for SXSW's premiere sponsors, and will be used at several important points of location for the event, such as the main information hub, VIP receptions, and on the tradeshow floor. Brightline's four major Social Machines include: The Virtual Presenter, a show-stopping rear-projection onto glass; Social Booth, a branded photo booth with social sharing capabilities; a speed matching game played on iPads; and a scalable data capturing and identification verification application. The Social Machines will be ubiquitous at SXSW, seen accompanied with both roaming brand ambassadors and in established and unmanned footprints as well.
Several of these Social Machines will be traveling to the Georgia Dome for Final Four, as well as some new experiences. Brightline will be unveiling a Twitterballoon—an experience in which users tweet to a particular hash tag, causing the physical action of air being blown into a large balloon. The tweeter whose tweet causes the balloon to burst will receive a prize from the brand, bringing the Social Machine from digital action to physical act, and leaving the consumer with a lasting, tangible, and branded memory from the experience.
To stay up-to-date with all of Brightline's experiences, follow them on Facebook and Twitter, or see http://brightlineinteractive.com.
About Brightline Interactive
Brightline Interactive is an award-winning, multi-discipline digital services agency that delivers creative solutions for web, mobile and experiential environments. Based in Alexandria, Virginia, Brightline develops, delivers, and promotes branded solutions for both the public and private sectors by blending creativity and expertise of any and all media and technology available.
###