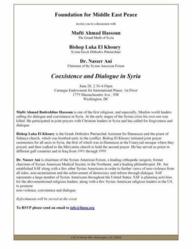 Washington DC, U.S. (PRWEB) June 24, 2012
Syrian Expatriate Organization condemns the upcoming visit of the Grand Mufti of Syria, Ahmad Hassoun, to Washington D.C. for an event titled, Coexistence and Dialogue in Syria, on June 28, sponsored by the Foundation for Middle East Peace.
http://e2.ma/webview/de5nc/2aa1584b1bd026029fdd248eee2d8cef
Ahmad Hassoun has recently threatened to activate a network of suicide bombers across the U.S. and Europe should Syria be attacked by U.S. or European forces: http://www.youtube.com/watch?v=LjatqLTN7wA&feature=youtube_gdata_player
Mr Oubab Khalil, Board member, said" Ahmad Hassoun is a self professed Assad loyalist. Hassoun has consistently blamed "outside forces" for the bloodshed and atrocities that are being perpetrated in Syria on a daily basis. Most alarmingly, Hassoun has threatened to activate a network of suicide bombers across the United States and Europe should the Syrian regime be attacked and has been quoted as saying: 'The moment the first missile hits Syria, all the sons and daughters of Lebanon and Syria will set out to become martyrdom-seekers in Europe and on Palestinian soil. I say to all of Europe and to the US: We will prepare martyrdom-seekers who are already among you, if you bomb Syria or Lebanon. From now on, it will be 'an eye for an eye and a tooth for a tooth, and he who dealt the first blow is more unjust,' and you are the ones who have done us an injustice.I say to every Arab and to every human being: Do not think that the people who will commit martyrdom in France, Britain, or the US, will be Arabs and Muslims. They will be a new Jules Jammal or a new Muhammad Al-Durrah. They will all be like the righteous [of the past]. I beg you not to come near our country. "
See: http://www.aljazeera.com/indepth/features/2011/10/201110312588957185.html
The Syrian Expatriate Organization believes such inflammatory rhetoric is contrary to the fundamental principles of coexistence and dialogue. While Hassoun has spoken of the importance of interfaith dialogue and religious moderation in the past, SEO feels as though his sentiments regarding the Syrian Uprising and his threats to kill innocent European and American citizens demonstrate that he is a man of violence rather than dialogue. Our organization seeks to promote religious unity among Syrians and seeks a Syria in which all religions, sects and ethnicity have equal rights and opportunities. SEO believes that, to have Hassoun speak at such an event in the U.S. capital is a slap in the face to the principles of freedom, democracy and tolerance.
The Syrian Expatriates Organization asks the Foundation for Middle East to withdraw its invitation to Mr. Hassoun. Furthermore, we ask the White House and State Department to ban his entry to the United States as he has explicitly threatened the safety and security of her citizens and poses a legitimate threat to our national security.