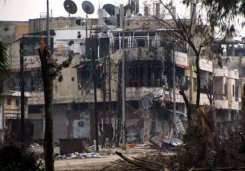 Homs, Syria (PRWEB) March 12, 2012
Syrian Expatriates is dumbfounded by the recent appalling massacre committed against women and children in Homs, as reported by CNN, "At least 45 women and children were killed in the Syrian city of Homs, late Sunday. The killing occurred in Homs neighborhood of Karm al Zaytoun, according to the Local Coordination Committees of Syria, an opposition activist network."
http://www.cnn.com/2012/03/11/world/meast/syria-unrest/?hpt=wo_c1
According to Huffington post, describing the same massacre,"Those numbers include 44 people who were 'executed', the opposition group said. It added that 20 of the dead belonged to a single family. The deaths were said to be 'reprisal killings'. "
http://www.huffingtonpost.co.uk/2012/03/08/syria-crisis-another-massacre-homs-baba-amr_n_1332390.html
Louay Sakka, SEO board member, said,"Footage of this massacre were posted on several Syrian revolution sites and Facebook pages, it is extremely graphic. Watching the video and photos of the victims, left us speechless. It is systematic slaughtering of people in Homs, targeting all ages and both women and men. It provoked immense pain to see children and women slaughtered, with all the world watching and not taking the action to help. By this time of the Syrian uprising against the tyrannical Assad regime, it becomes apparent that, without international community plan to protect civilians, Assad regime will commit more atrocities, and the world will witness more appalling massacres."
Syrian Expatriates mourns the victims of Homs massacre, and saddens by this overwhelming news about our beloved people in Syria. SE demands immediate act by the international community that provide protection for civilians under attacks by Assad forces.
Syrian Expatriates asks UN to hold its responsibilities of protecting civilians in the time of war, and stresses the necessity for immediate unfettered access of humanitarian organizations to the devastated areas.
Syrian Expatriates believes that every effort to help Syrian has to start by ousting Bashar Assad and his loyal forces, associated with protection of civilians.