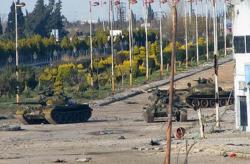 (PRWEB) February 16, 2012
According to the Associated Press, "The Arab League called Sunday for the U.N. Security Council to create a joint peacekeeping force for Syria and urged Arab states to sever all diplomatic contact with the Assad regime."
The Syrian Expatriates Organization has been demanding the international community to intervene, and help in stopping the bloodshed in Syria after eleven months of peaceful demonstrations by the Syrian People asking for basic human rights, freedom and justice.
The escalation of the crackdown by the Assad regime after the Russian-Chinese veto in the UN Security Council has reached a level where immediate action was needed. SEO acknowledges the effort put forward by the Arab League in support of the Syrian people's aspirations for a better Syria.
SEO believes that this step is a milestone in the path of the Syrian people's struggle against a ruthless regime. SEO appreciates all the effort and looks forward to more needed action to stop the bloody crackdown by the Assad regime.
http://www.reuters.com/article/2012/02/12/us-syria-idUSL5E8DB0BH20120212
###