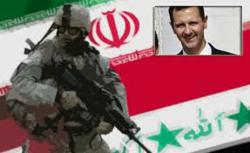 (PRWEB) September 03, 2012
The Syrian Expatriates Organization (SEO) is outraged by recent news that the Iranian government is deploying troops to Syria to help bolster Bashar al-Assad's regime. General Salar Abnoush, a commander in the Iranian Revolutionary Guards recently stated: "Today we are involved in fighting every aspect of a war, a military one in Syria and a cultural one as well." Iran has been a long term ally of the Assad regime and this is the first admission from the regime that they are actively supporting Assad's crackdown on pro-democracy dissidents inside Syria.
http://online.wsj.com/article/SB10000872396390444230504577615393756632230.html?mod=googlenews_wsj
According to a recent Wall Street Journal article, the Iranian Revolutionary Guards Corp has recently admitted that the Iranian government is deeply involved in Assad's 18 month massacre of Syrian civilians. According to the report, Iran has been providing direct military aid in the form of soldiers who are helping to replace defecting soldiers in the Syrian army. Iran is also providing aid in the form of intelligence, equipment, training and technology to help Assad massacre his people. The IRGC stated that keeping Assad in power is an essential facet of Iran's foreign policy.
SEO is outraged that any government would actively support Assad in massacring his own people. While many have been suspicious that Iran has been aiding Assad, this open admission makes it clear that the Iranian government is not concerned with human rights or democratic principles, rather, its guiding principle is to maintain hegemony over the region. Furthermore, SEO views Iran's deployment of troops inside Syria presents a credible threat to many U.S. allies in the Middle East and Europe.
SEO hopes that the international community will join it in condemning these actions. International action must be taken to prevent a buildup of Iranian troops within Syria whether it is in the form of an aerial and naval blockade of Syria or more severe sanctions against the current Iranian government.