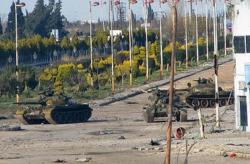 Syria (PRWEB) February 16, 2012
Assad regime's reform initiatives are "too little, too late."
The Syrian Expatriates Organization (SEO) rejects the Assad regime's call for a constitutional referendumset to be taken on February 26, 2012 to put forth purported reforms relating to "public freedoms" and "political plurality." As reported by Reuters.
According to LAtimes;The regime's national referendum on the draft constitution is being announced nearly one year after Syria's revolution began and more than 6,000 civilians have been killed at the hands of the ruling regime. The brutality and ruthlessness of the Assad regime of the past 11 months has caused the government to lose all credibility to bring about change and meaningful reform to the country. Even at the time of the referendum announcement, Syrian security forces, loyal to the Assad regime, increased assaults on civilians in the rebel strongholds of Homs, Hama, Idlib, and rural Damascus.
Dr Mazen Hassan, SEO founder said," The proposed amendments in the Syrian constitution have been sought by Syrian opposition activists long before the uprising began in mid-March 2011. For instance, past attempts to introduce a multiparty system and challenge the longstanding Baath political party's rule have been met with repeated rejection throughout the years. Further concern is caused by the proposed Article 85, which sets the presidential tenure at seven years, yet is seemingly renewable without limitation. In addition, Article 91 gives the president immunity before a court of law."
Dr. Mazen Hassan, SEO founder, furthermore stated, "We reject Assad's call for a national referendum on the draft constitution; we think this step is just a desperate attempt by the regime to regain its lost legitimacy. Our demand is for Assad to step down, which directly discredits him from constitutional changes and any other reforms."
SEO considers that, Assad regime has lost all legitimacy; presentation of any supposed reforms after the slaughter and inhumane torture of thousands of Syrian civilians over the past 11 months is not only disingenuous, but will not be accepted.
http://www.reuters.com/article/2012/02/15/us-syria-constitution-idUSTRE81E0GF20120215
http://latimesblogs.latimes.com/world_now/2012/02/syrias-assad-wants-election-as-homs-shrouded-in-smoke.html
http://www.eurasiareview.com/15022012-syrias-new-constitution-too-little-too-late-analysis/
###