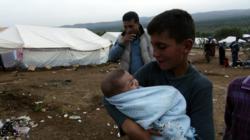 Salt Lake City, UT (PRWEB) November 26, 2012
Syrian Expatriates Organization in association with Muslim Student Association of Salt Lake Community College and Middle Eastern Studies Association at Brigham Young University sponsor a community event on Saturday December 1st-2012 at Son's of Utah Pioneer, 3261 East Louise Ave, Salt Lake City, with a Christmas Boutique Fundraiser, for the benefit of "Don't Leave Syrians Cold" campaign directed to support Syrians living under extremely harsh conditions in Syria and in the refugee camps.
SEO views this project as significantly important at this time. It highlights one of the major challenges facing Syrians and their families on a daily basis. SEO would like to create a public awareness in the United States about the suffering of Syrians out in the cold winter. According to an article published in VOA on Nov 20th -2012 "Hundreds of thousands of children who have fled the fighting in Syria are at risk from cold and disease as winter approaches, according to aid agencies. There are fears that scores of vulnerable children could die in the makeshift camps that litter the border regions in countries like Lebanon and Iraq."
http://www.voanews.com/content/winter-poses-deadly-risk-for-syrian-children/1549867.html
SEO, together with MSA of salt lake community college and the Middle eastern studies Association- Brigham Young University- Salt Lake City, UT extend their invitation to local communities to participate in this community event. The entire generated fund will go to help alleviate the suffering of Syrian facing the harsh winter with limited heating resources, cloths and blankets.
Please Join SEO in this fund raising event on Saturday Dec. 1st, 12:00 pm- 6:00 p.m. at Son's of Utah Pioneer, 3261 East Louise Ave, Salt Lake City.
Dr Samah Bassas, Salt Lake City
Phone: 801 22872 28
The Syrian Expatriates Organization is a leading nonprofit organization of Syrian Americans and Syrian Canadians that reflects the diversity and talent of the Syrian nation. Its mission is to support the establishment of a free and democratic Syria. In addition, the SEO provides humanitarian relief to those in need and works to promote the social, political and economic development of Syria.