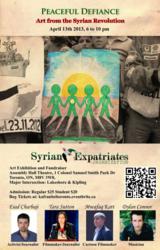 (PRWEB) March 25, 2013
Syrian Expatriates Organization invites you to the special event "Peaceful Defiance: Syrian Revolution Art - An exhibition and fundraiser"
Date: April 13 at 6:00 PM
Location: Assembly Hall Theatre
Address: 1 Colonel Samuel Smith Park Dr,
Toronto, ON M8V 3W8
This event will hold an exhibition on an original arts from Kafranbel, a small Syrian city in the province of Idlib- Northern Syria, and remarkable caricatures by Syrian artist Mouaffak Kat. Special guest speaker and media activist, Eiad Charbaji, and musical performance by Songwriter and composer, Dylan Connor, will be present in the event.
Kafrabel's arts were recognized by Huffingtonpost in an article published on July 2012, as " A poster produced by a group of activists in a northwest town in Syria has gone viral with its satirical attack on the country's leader Bashar al-Assad. Many of their bitingly caustic posters have an international message."
http://www.huffingtonpost.co.uk/2012/07/17/occupy-kafr-anbel-kafranbel-ass-in-assad-_n_1678857.html#slide=1233432
" We are honored to display the original drawings of Kafranel talented artists, who inspire us by their creativity and ingenuity. Their posters had become an integral part of Syrian revolution, as a visual images reflecting the most critical events. Their drawings have been successful in stretching the message of revolution beyond the boundaries of words."said Maher Azem, The organizer of the event, adding " The exhibition symbolizes the viability of Syrian people, who were able to turn their misery into arts, and send a message of inspiration to the outside world.."
Please join us in this exhibition and fundraising, we are looking to have an exceptional event in Toronto on April 13th
For online registration, please go to:
http://www.kafranbeltoronto.eventbrite.ca
Snacks and refreshment will be available for sale.