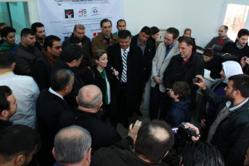 Washington, DC (PRWEB) January 08, 2013
The Union of Syrian Medical Relief Organizations (UOSSM) is proud to announce the opening of Bab AlHawa hospital - phase one - in Northern Syria as a part of UOSSM's continuous efforts to meet the increased medical demands resulted from the ongoing barbaric attack of Assad forces.
The opening ceremony was held in the hospital on Friday January 4th 2013, with the presence of Ms Suhair al-Attasi, Vice President of the National Coalition for Syrian Revolutionary and Opposition Forces, who delivered a speech saying "Despite the Assad regime's airstrikes, we managed to gather in this area inside Syria, and eliminate all the barriers among the opposition inside and outside." Furthermore, she commended the noble works of doctors working inside Syria, describing them as the "unknown soldiers", who risk their lives to help the wounded and people in need. At the end Ms Attasi extended Syrian people's gratitude to Turkey. The ceremony was attended by Dr Abdulrahman, President of UOSSM; Dr Monzer Yazji, the head of UOSSM Turkish office; and by the Governor of Rehanila.
With appreciation, UOSSM acknowledges the exceptional efforts by Dr Khalid Kandeel, the project manager, who said, "this project was initiated by UOSSM to receive patients and injured people from areas under attack, lower the burden on Turkey, and enhance our medical practice using the expertise of expatriate physicians."
Describing the project, Dr Anas AlKassem, UOSSM Board member said, "Bab AlHawa hospital is considered, with its 2 departments, as the largest hospital we have set up so far. The elective department includes 46 beds, in addition to 4 operating rooms and ICU. The emergency department of the hospital includes 9 beds in addition to 3 ICU beds and 2 operating rooms designated for acute injuries. Our initial objective is to receive and manage injured people inside Syria instead of being transferred to Turkey, thus lowering the complications and saving more lives."
Dr AlKassem added, "UOSSM appreciates the remarkable help by Turkey, and would like to extend gratitude to the Syrian National Coalition for their support and participation in the opening ceremony. UOSSM would like to thank CRS, Syria Relief and AAVS, in addition to the French and Dutch foreign ministries for their special contributions to this noble project."
Dr Talaat Atassi, a trauma orthopedic surgeon, who sits on the committee of this hospital stated "We are, anxiously, waiting for the completion of the elective section of this project, with the help of other UOSSM's organizational members including SAMS, SEO and SEMA. This project is one of many unique medical relief projects carried out by UOSSM organizations."
The UOSSM is a humanitarian, non-governmental, independent organization, created following the deadly events in Syria, to provide medical and humanitarian aid to Syrian. UOSSM was established by 14 medical and relief organizations, and includes hundreds of physicians of mainly Syrian origins distributed in the United States, Canada, in Europe and in different Arab countries.