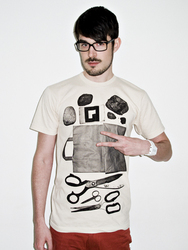 I love the new Augmented Reality technology. It gives us the chance to make t-shirts with only 5% of the total experience printed on the fabric itself. The rest you'll be able to enjoy interactively through your web camera, says Peter Lundgren
(PRWEB) January 28, 2010
Starting this week, subscribers of T-post will be able to wear their graphic T-shirt in front of any web camera and play a game of Rock, Paper, Scissors against a computer-generated arm that extends from the shirt itself.
Play the Game: http://www.t-post.se/rockpaperscissors
Pulled from the headlines, and interpreted by Swedish designer Marc Strömberg, this innovative issue of T-post uses augmented reality to comment on the future of college education.
From exotic dancer research and marijuana horticulture to popular TV show logic and, you guessed it, underwater basket weaving, college just isn't what it used to be. It used to be that sex, drugs and recreation were extracurricular activities. Today, they are part of the actual coursework.
While we may all have to wait to see if T-post's prediction of higher education will come true, and Rock, Paper, Scissors is used to teach university students the art of business negotiation, a new trend in fashion begins now, thanks again to T-post's and their innovative use of augmented reality.
About T-post
T-post works a lot like a magazine subscription. Every six weeks, subscribers from over 50 countries receive a new issue/t-shirt in the mail. The offbeat news story is printed on the inside back of the shirt. And a graphic artist's interpretation of that news story is printed on the front. For subscribers, the comment "Nice shirt" now becomes an invitation to tell the story behind the design and create dialogue about an interesting world event.
More than just an innovative social brand, T-post is also an environmentally conscience one. To reduce waste, T-post is only sold online to subscribers using the principles of on-demand manufacturing, i.e. making only what consumer's want. Additionally, shirts are sweatshop-free, often organic, and printed with eco-certified inks.
For pictures or more information:
http://www.t-post.se/press and http://www.t-post.se/about/all-about-t-post
T-post: Peter Lundgren, C.E.O. and Editor-in-Chief
E-mail: peter (at) t-post (dot) se
Phone: 004670 - 227 48 02
Web: http://www.t-post.se
###