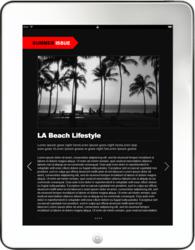 I realized I'm constantly holding my iPad like a book.
Los Angeles, CA (PRWEB) December 19, 2012
A growing number of tablet users are already forming use-habits that could shape the future of digital content publishing. In the battle of landscape versus portrait mode, tablet users clearly state a preference, according to a new online poll by Readz Tablet Publishing.
Fifty-four percent of those who participated in the poll say they prefer to view content on their tablets in portrait mode.
"I didn't really think about it until I saw the poll," says Scott Morris, a self-proclaimed connoisseur of digital media, apps and "all things tablet." "Once I thought about it, I realized I'm constantly holding my iPad like a book. I use FlipBoard a lot, read a lot of news and short stories … and I'm definitely a portrait guy."
Another 28% of poll respondents favor a horizontal, or landscape view, while 18% say they have no preference.
"If I'm watching video or a movie, my Nexus is horizontal," says Anita Vari, an avid app user. "If I'm reading or searching for a lot of content quickly, or just reading, then I switch to portrait, so I guess both suit my needs."
It's a routine concern among publishers: invest significant budget to support two separate reading directions, portrait and landscape. Although the answer may be different for each company, the Readz poll offers insight from day-to-day tablet users.
The number of publication apps available for iPad and Androids jumped 112% from September to October 2012. A continued increase is predicted. Traditional publishers expanding into digital content are eager to know user-habits and why readers prefer one view over another.
With the explosion of digital content re-inventing itself for tablets and mobile devices, Readz understands the opportunity for magazine, news and print publishers to reach the growing tablet-user market.
"Many publishers are daunted by the technological and budgetary challenges of publishing to tablets," explains Bart De Pelsmaeker, CEO of Readz Tablet Publishing. "We see a need and offer a solution for large companies, or individuals, to migrate their branded-content into a tablet format, allowing them to reach new audiences as well as maintain their current readers."
About Readz
A break-through in digital content creation, Readz Tablet Publishing offers a complete solution to transform magazines, newsletters, or other content into visually stunning tablet experiences. Readz allows content creators to build their own apps using the Readz interface. It's a platform complete with pre-made, customizable tablet templates and design tools, and there is no need for programming.
For a limited time, Readz is offering free trial accounts by invitation. Visit Readz.com to sign up for a free account to begin building your own app or request a personal demo. Find Readz at Facebook.com/ReadzTabletPublishing or Twitter.com/ReadzPublishing.
Subscribe to other tablet publishing polls and results here. http://pages.readz.com/subscribe_insights_on_mobile_and_tablet_publishing