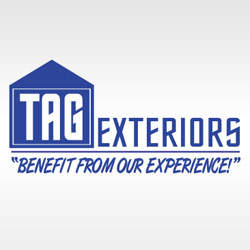 The site features easy-to-navigate content that focuses on their home improvement services to the Indianapolis community at large.
Indianapolis, IN (PRWEB) April 09, 2013
Just in time for the spring remodeling season, Tag Exteriors has revamped its website, providing a streamlined way for clients to explore its home improvement services. A simplified navigation bar directs customers to all of the offered services and lets them delve into the optimized content that corresponds to each page.
TAG Exteriors undertook the redesign to help improve its Internet presence by highlighting what it does best. Customers will find information on the following home improvement services: roofing, siding, windows, doors, gutters, and damage restoration. Potential clients can fill out an online contact form to receive more information, ask questions, or request an appointment.
TAG Exteriors is EPA-certified; very few contracting companies can meet these standards. Therefore, clients who are looking for a contractor that can safely remove hazardous lead material from their home or workplace will find TAG Exteriors capable of following lead safe-work practices during any restoration process.
Management also wanted the new website to be linked with its social networking efforts. Since TAG has a presence on Facebook, Twitter, and Google+, the changes will make it easier for TAG's followers to stay connected. Clients who follow them on Twitter or like them on Facebook will receive helpful, creative links to improvement projects and ideas for the interior and exterior of the home. Recent tweets can be found on the company's home page.
The site's development and content is the product of The Web Guys, located in the Indianapolis, Indiana, area. The Web Guys and TAG Exteriors expect the new site to increase the flow of traffic to its site and to solidify the company's presence in the industry.
About TAG Exteriors
TAG Exteriors is located in Indianapolis, Indiana, and specializes in the home improvement industry. With 14 years of experience, TAG is a complaint-free member of the Better Business Bureau. It works with both residential and commercial clients. More information on TAG and its services can be found at http://www.tagwindowsandsiding.com or by contacting the company directly at (800) 313-7110 or (317) 414-6781.