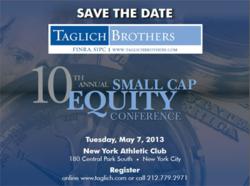 Orchids Paper Products Company To Present At Taglich Brothers 10th Annual Small Cap Equity Conference
NEW YORK, NY (PRWEB) April 18, 2013
Taglich Brothers, Inc. is pleased to announce that Robert Snyder, President & CEO and Keith Schroeder, CFO of Orchids Paper Products Company (NYSE MKT: TIS) will be presenting at their 10th Annual Small Cap Equity Conference May 7, 2013. The Conference will take place at the New York Athletic Club, New York City. To request additional information or to register, contact Taglich Brothers at 212-779-2971 or visit http://www.TaglichBrothers.com.
About Taglich Brothers:
Taglich Brothers, Inc. is a full-service broker dealer focused exclusively on microcap companies. The Company defines the microcap segment of the equity market as companies with less than $250 million in market capitalization. Taglich Brothers currently offers institutional and retail brokerage services, investment banking and comprehensive research coverage to the investment community.
About Orchids Paper Products Company:
Orchids Paper Products Company is an integrated manufacturer of tissue paper products serving the at home private label consumer market. From its operations in north east Oklahoma, the Company produces a full line of tissue products, including paper towels, bathroom tissue and paper napkins, to serve the value through premium quality market segments. The Company provides these products to retail chains throughout the United States. For more information on the Company and its products, visit the Company's website at http://www.orchidspaper.com.
Contact:
Taglich Brothers
Karen Payne, Symposia Events
212-779-2971