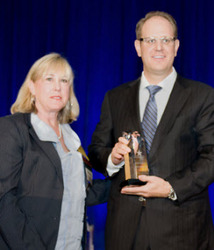 TAHC&H and Kinnser are each working hard to make sure that Texas home health agencies stay ahead of these reimbursement cuts, as well as manage the increased documentation demands, audits and other changes…
Austin, TX (PRWEB) August 12, 2010
Kinnser Software, leading Web-based home health software provider, announced today the Texas Association for Home Care & Hospice (TAHC&H) has presented Kinnser Software the 2010 Associate Member of the Year Award. TAHC&H recognizes Kinnser Software's commitment to the Association and advocacy on behalf of the home care and hospice industry.
Each year, TAHC&H selects the best home care and hospice businesses in Texas and honors them with the Associate Member Award for making outstanding contributions to the industry during the preceding year. Chief Executive Officer Christopher Hester accepted the award for Kinnser Software during the Opening Ceremonies at the TAHC&H Annual Meeting in Dallas, TX.
"TAHC&H has been an important partner for Kinnser since I started the company seven years ago, and I look forward to a continued close relationship in the years to come," said Mr. Hester. "Our partnership is very collaborative in that TAHC&H works in the policy and practice arena, and Kinnser works in the technology arena. Our common goal is to ensure a vibrant and successful home health industry that is a full partner in the health care continuum. The next year is going to be even more challenging and the approximate 5 percent Medicare cuts that will take effect on January 1, 2011 will require everyone in the industry to work to improve efficiency and collaboration while reducing costs."
"TAHC&H and Kinnser are each working hard to make sure that Texas home health agencies stay ahead of these reimbursement cuts, as well as manage the increased documentation demands, audits and other changes that are coming our way. We have a lot more work to do together, and I look forward to a continued close collaboration with TAHC&H and other organizations."
The Texas Association for Home Care & Hospice is a non-profit association dedicated to the promotion of quality and economic viability of licensed providers of home and community support services in Texas. With over 1,200 members, TAHC&H is a unified voice for the interests of home care throughout the state of Texas.
About Kinnser Software, Inc.
Kinnser Software, Inc. is the complete point of care, administration and billing solution – delivering increased net revenue, decreased costs and improved collaboration to home health agencies nationwide. Kinnser's unique online home health agency software solution Agency Manager™, engages clinicians and staff throughout the care continuum, providing revolutionary connectivity within the agency and also with fiscal intermediaries/insurance, physicians and therapy companies. Learn more at Kinnser.com
###