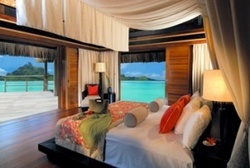 We're so excited to offer these three honeymoon packages
Kihei, Hawaii (PRWEB) February 10, 2009
Pacific for Less, a leading provider of Tahiti honeymoon vacation packages, announces three exclusive bargain honeymoon getaway packages that provide all the romance and amenities couples dream about. In 2009 Pacific for Less offers couples great deals on luxurious and romantic Tahiti honeymoon destinations that will create memories to last a lifetime. Now is the time to book romantic Tahiti honeymoons at Pacific for Less to ensure availability.
"We're so excited to offer these three honeymoon packages," stated Claudia Schnetz, General Manager of Pacific for Less. "Your honeymoon in Tahiti is the beginning of your life together and Pacific for Less offers fantastic deals on our exclusive VIP honeymoon package, Four Seasons honeymoon package and our popular Romancing Bora Bora package," Mrs. Schnetz said.
Pacific for Less provides incredible bargain pricing on its Exclusive VIP St. Regis Honeymoon / Anniversary package. This 5 Star luxury romantic honeymoon is the perfect Honeymoon /Anniversary package in the most luxurious hotel in Bora Bora. This VIP Tahiti honeymoon vacation includes:

Roundtrip Air-fare from/to Los Angeles on Air Tahiti Nui/Coach Class
VIP Airport welcome with flower lei and special assistance, luggage handling
PRIVATE Airport-Hotel-Airport Transfers on both islands
Air Tahiti Roundtrip Tickets to Bora Bora
1 night Sheraton Papeete, Superior Lagoonview Room
5 nights, St.Regis Hotel, DELUXE Overwater Villa, fantastic view of Mt.Otemanu, furthest out in the lagoon, most private
Daily American Breakfast and one Polynesian Canoe Breakfast delivered to your Villa
One private romantic, gourmet candlelight dinner served on the beach or in the privacy of your villa
The Ultimate Polynesian Taurumi Couple Massage, romantic flower turndowns and not to forget your bottle of exclusive French Champagne
"The VIP package is exclusive to Pacific for Less and we encourage couples who want an extraordinary honeymoon to contact us now to get a great deal on this package," Mrs. Schnetz said.
Honeymoon couples can also select Pacific for Less' Four Seasons Resort Bora Bora honeymoon getaway that offers 5 nights of ultimate luxury including one exclusive, romantic honeymoon dinner at the famous Villa Mahana. The epicurean menu for this dinner includes such distinctive dishes as Sea Food Salad and Caviar, Seared Duck Liver with Sweet Spices, King Rock Lobster risotto and more for a truly elegant and exclusive dining experience.
The Four Seasons Resort Bora Bora offers 121 spacious hideaways within 100 super luxurious Over-Water Villas and 7 beachfront villas. This romantic honeymoon vacation includes:
Roundtrip Air-fare from Los Angeles to Tahiti on Air Tahiti Nui/Coach Class
Air Tahiti Inter-island Roundtrip Airfare
All transfers
5 nights, 4 Seasons Resort & Spa, Overwater villa Beachview
One Ultimate Romantic Honeymoon Dinner, best TOP-TABLE, at the famous Villa Mahana in Bora Bora, including Chef Damien's exclusive champagne and wine pairing, and much more.
"Our Four Seasons package that features the exclusive and elegant dinner at the fabulous Villa Mahana is a one-of-a-kind honeymoon that's sure to be remembered always," said Mrs. Schnetz.
One of Pacific for Less' most popular honeymoon packages is the Romancing Bora Bora & Tahaa package. Honeymoon couples will spend 3 nights at the St.Regis Resort Spa, Bora Bora, in a luxurious Overwater Villa, and then 2 nights at the breathtaking Le Tahaa Island Resort & Spa, in a Tahaa Overwater Suite. Honeymoon couples will enjoy the glistening sands and sparkling waters at these two top resorts for an unforgettable Tahiti honeymoon experience.
This Tahiti honeymoon package includes:
Roundtrip Air-fare from Los Angeles to Tahiti on Air Tahiti Nui/Coach Class
Traditional flower welcome and special assistance, luggage handling
5 nights in unforgettable Overwater Villas and Suites
Daily American style breakfast buffet
Airport-Hotel-Airport Transfers
Air Tahiti Inter-island Airfare
Farewell shell lei and airport assistance
To help plan the perfect Tahiti honeymoon Pacific for Less offers site visitors its helpful trip planning section, "20 Must Knows When You Travel to Tahiti". Pacific for Less invites couples to book their getaway today so they can get the best deals on Tahiti honeymoons.
About Pacific for Less
Pacific for Less offers the most attractive rates and highest quality service because of its long-term relationships with its partners in the South Pacific. Travelers can enjoy complete South Pacific travel planning services including a well-planned itinerary that includes the very best of luxury resort hotels, daytrips, cruises and more. All inquiries are answered promptly and all bookings are generally confirmed within 24 hours.
For more information on Tahiti honeymoon vacations, please contact:
Ms. Claudia Schnetz
Pacific for Less, Inc.
1993 South Kihei Road #21-130
Kihei, Hawaii 96753 USA
Phone/Fax : 1-800-915-2776 or
808-875-7589
# # #