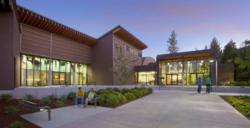 These aren't just buildings, they're programs. These are all student-centered, student-focused to provide a creative environment for our kids.
Sacramento, CA (PRWEB) March 13, 2013
Taking home two honors from the Coalition for Adequate School Housing/American Institute of Architects California Council's 2013 awards competition, school architecture firm, LPA Inc., received honors for the design of the Tahoe Arts and Design Academy (TADA) in South Lake Tahoe, Calif., and e3 Civic High, an urban charter school in Downtown San Diego.
The TADA project, an innovative career tech initiative, was recognized with an Award of Honor in the Modernization/Reconstruction category, and the San Diego project, e3 Civic High—the nation's first school designed inside of a public library, won an Award of Honor in the Project-in-Design category of the Leroy F. Greene Design + Planning Awards Program.
As part of a five-phase modernization program, the TADA building is a 28,000-square-foot, Hollywood-class studio space nestled in the Sierra mountains, featuring a 275-seat theater, Foley sound stage, tiered orchestra room, green screen studio and state-of-the-art editing suites.
Designed to outperform California's Title 24 energy code by 20%, the Academy adds filmography, acting, stage management and video/sound production to the school's various career training opportunities. According to the Collaborative for High Performance Schools (CHPS), the facility is CHPS designed—a designation that defines the attributes of a high performance school.
"The success of TADA celebrates the architectural solution that we were able to create for a passionate and enthusiastic group of educators," relates LPA Design Principal Wendy Rogers. "The district set out to establish a better educational program that would enable more of their students to graduate from high school and find success in a career they love. This award honors the hard work of our collaborative team for an exceptional high school transformation at 6,250 feet above sea level."
LPA adds this latest award to another C.A.S.H. award, an AIA Orange County Award and a Concrete 2011 Concrete Masonry Design Award for the design of the Career Technical Education Construction and Transportation Academy on South Tahoe's campus.
"There's no school like this—I've been told that there's no school like this in California, or the nation," reports South Tahoe High School Principal Ivone Larson. "They are such complex facilities. These aren't just buildings, they're programs. These are all student-centered, student-focused to provide a creative environment for our kids."
Urban Charter School
Tracking LEED Gold, e3 Civic High—which stands for Engage, Educate and Empower—is creatively co-located inside a downtown San Diego public library in a unique collaborative setting. While library patrons don't have access to the school, they can catch a glimpse inside the project-based educational environment as they ride a glass elevator through the building's sixth and seventh floors.
The transparent design and unique location, which capitalizes on the library's existing infrastructure, was chosen to foster team-based, experiential-learning opportunities with the help of movable glass walls, modular furniture, a demonstration kitchen, break-out learning spaces and a plaza area for assemblies and dining.
"Studios are organized in villages clustered around a shared commons and teaming rooms," explains LPA Associate and Interior Designer Kate Mraw. "The design principles for the learning environment centralized around three ideas; personalization, social connections and flexibility. For learning to happen everywhere, we understood that movement mattered—regardless of the primary function, secondary uses were explored, developed and designed."
LPA also engaged the community in the design process through workshops, charettes, image sharing and building tours to help promote the school's partnership with the city and library foundation in linking education into the urban culture.
Additional design highlights include a "living room" setting with comfortable furniture and controllable lighting called the Park; a central staircase which doubles as a social learning space; an interactive wall that students can write on, display projects and even sit on; and a centrally-located gallery lined with whiteboard surfaces and specialty lighting where students can share their work.
"Linking students around the interactive wall, the organization of educational space is curriculum driven," Mraw explains. "Pull-out pockets and display opportunities take advantage of otherwise passing-only space, classrooms don't resemble the classroom next door and shared learning spaces are transparent."
For more information about South Tahoe High School, please visit SouthTahoeHigh.net. For more information about e3 Civic High, please visit e3CivicHigh.com.
For interview opportunities with LPA Design Principal Wendy Rogers or Associate and Interior Designer Kate Mraw, please use media contact: Rochelle Veturis Coles at (949) 701-4148 or rcoles[at]lpainc[dot]com.
About CASH
The Coalition for Adequate School Housing (CASH) was formed in 1978 to promote, develop, and support state and local funding for K-12 construction. CASH Membership contains more than 1,500 school districts, county offices and private sector businesses including: architects, attorneys, consultants, construction managers, financial institutions, modular building manufacturers, contractors, developers, and others that are in the school facilities industry. Since 1982, CASH has sponsored or supported over $52 billion in statewide school bonds to build and/or modernize thousands of schools.
About LPA Inc.
Founded in 1965, LPA has nearly 200 employees with offices in Irvine, Roseville, and San Diego, Calif. The firm provides services in architecture, sustainability, planning, interior design, landscape architecture, engineering, and graphics. There is no "Sustainability Director," at LPA. Instead, more than 80% of the professionals are LEED accredited, including the Human Resources Director, CFO, and several other support staff. With extensive experience in public and private architecture, LPA designs a diversity of facilities that span from K-12 schools, colleges and universities, to corporate and civic establishments. More than 500 major design awards attest to LPA's commitment to design excellence. For more information, visit LPAinc.com.