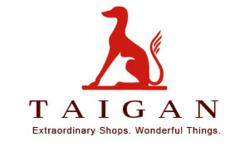 "We strive to be the site where customers go to find anything unique and unusual and we try to frequently launch new talent to keep it fresh," explains Taigan CEO. "We launch designers no one has heard of to set ourselves apart from other shopping sites."
Brentwood, TN (PRWEB) March 29, 2013
Specialty online shopping site, Taigan, this month introduced seven new shops to their collection of exquisite designers, artisans and retailers. Each month, the elusive e-commerce site introduces a handful of newly discovered small business artisans, designers and/or retailers from across the globe ranging in categories such as fashion, accessories, home décor, gourmet food, sporting life and more. Taigan has enjoyed considerable shopper acclaim for its growing collection of hard-to-find, unique designers. Reasonably each new launch features a special story behind the brand in addition to an exclusive access that comes with shopping on the site.
"We source exquisite product in a variety of categories, all presented by new and emerging designers and artisans. As we add new shops, we continue to grow Taigan's depth and reputation for the most highly edited collection of goods online," explains Taigan CEO Elizabeth Nichols. "Our team tirelessly searches for the best new products and designers, then we share those discoveries with our shoppers."
The seven shops added to Taigan in March are
-Salemtown Board Co. handcrafted skateboards
-Heritage Handcrafted artisanal wood workings
-Capicua children's apparel and accessories
-Anna Ruth Henriques designer fine jewelry
-Hancock Baskets hand woven baskets
-A.Barclay designer scarves and wraps
-August Morgan charming designer cocktail napkins
Salemtown Board Co. from Nashville, TN was established in 2012 with a dream to make a positive impact on the city's urban youth through their handcrafted skateboards. They started with no money, a tank full of gas, some reclaimed oak and access to a vintage wood shop. Their shop in urbn Nashville's "Salemtown" builds custom and off the shelf wooden skateboards with a vintage flair while employing, training, and mentoring youth in the distressed urban neighborhood. Every board is a one-of-a-kind, handmade, solid oak, surf-inspired cruiser.
Heritage Handcrafted from Charlotte, NC was uses traditional woodworking methods to build furniture and other original home decor from a non-traditional medium. This intuitive and fun home décor and gifts are made from reclaimed whiskey, bourbon and wine oak barrels.
Capicua from Atlanta, GA started with two best friends from high school, now young mothers on separate continents, sharing a passion for beautiful design and unique fabrics. One is from Barcelona, which translates into an eye for modernism, structure and simplicity. The other is from Seville, which translates into an appreciation for rich heritage and ornamentation. Following a long tradition in Spain, their goal is to dress little girls in charming, classic, well-crafted children's clothes at reasonable prices.
Anna Ruth Henriques from New York, NY is a jewelry designer using the lost-wax method. She works with recycled 18K gold and oxidized sterling silver, and incorporates locally-cut, conflict-free precious stones that she selects for specific meaning and intentionality. The combination of these elements results in a unique and beautiful product with an intrinsic quality.
Hancock Baskets from Hancock, NH creates hand woven, aesthetically beautiful baskets while keeping function in mind. Hancock Baskets is known for their Nantucket, Shaker, and Bali style baskets as well as Peggy Fisher handbags.
A.Barclay from Atlanta, GA designs collections of scarves and resort wear which provide luxurious accessories to the fashion marketplace. By purchasing one of these pieces, the profits then benefit Tanzanian orphanages.
August Morgan from Austin, TX designs clever and witty cocktail napkins and guest towels with hand stitched sayings and illustrations for any party-goer to enjoy.
To stay up to date on all new Taigan launches, visit Taigan.com and sign up to receive emails. And monitor new launches on each of Taigan's social media outlets (Fetch Magazine, Facebook, Twitter, Pinterest and LinkedIn). For more, visit Taigan.com.
ABOUT TAIGAN
Founded in 2009, Taigan is the world's premier curated online marketplace featuring a highly selective collection of fashion, accessories, home décor, gourmet food, sporting life and more. Accepting less than 3% of the 5000+ merchants who have inquired to be presented on the online shopping site, Taigan handpicks items from boutiques, designers and artisans from across the country and presents them to their discerning global shopping audience. Taigan connects the creators, the passionate collectors, and the knowledge brokers who celebrate all things well crafted, well presented and well done. It is the online destination for exquisite, hard to find items, presented by the talented purveyors that are hand-selected by Taigan.