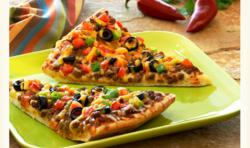 (PRWEB) March 27, 2013
Papa Murphy's is proud to announce its third location has opened in Greenville, SC. Papa Murphy's has been serving the Greenville and Greer areas fresh take and bake pizza since 1981. Their newest location at 1494 Poinsett Highway in Greenville will be continuing the tradition of dedication to providing the best pizza.
Voted the number one pizza chain according to consumers in Nation's Restaurant News, and Zagat's #1 pizza chain for the third straight year, Papa Murphy's prides themselves on their gourmet pizzas. From vegetarian pizza to a five meat stuffed pizza, pizzas can be customized for any taste. Visit any of our Papa Murphy's Locations and try our Taco Grande Pizza, made with refried beans, salsa, mozzarella, taco beef or taco chicken, black olives, roma tomatoes, green onions, and topped off with cheddar cheese. Stop by and try our large Taco Grande pizza for only $10 (limited time only). Using only the freshest ingredients, Papa Murphy's allows customers to choose from several dough choices, sauce, cheese, and toppings, and then the pizza is built right in front of them.
Papa Murphy's is also looking to expand into new areas. To stay updated on new locations, visit: http://www.facebook.com/papamurphysupstate.
About the company:
Papa Murphy's Take and Bake Pizza is like no other in Greenville or Greer, SC. We make every gourmet pizza before your eyes with the finest ingredients. We have a large selection, including vegetarian pizza. Then you take it home and bake it in your own oven whenever you're ready! It is the freshest pizza you can buy! You get exactly what you want at an exceptional value. Please visit http://www.papamurphysupstate.com.