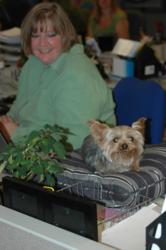 With the 15th annual celebration of PSI's Take Your Dog To Work Day® on Friday, June 21, many businesses—even those not traditionally pet friendly—are making plans to open their doors to employees' dogs.
King, NC (PRWEB) March 14, 2013
With the 15th annual celebration of PSI's Take Your Dog To Work Day® (TYDTWDay®) on Friday, June 21, many businesses—even those not traditionally pet friendly—are making plans to open their doors to employees' dogs.
For businesses like Hitachi Data Systems in Santa Clara, Calif.—recently named one of Fortune's "100 Best Companies to Work For"—TYDTWDay has become an annual event.
"At Hitachi Data Systems (HDS), Take Your Dog To Work Day is a fun and very successful event that our employees look forward to every year," said Hitachi Data Systems' Chief Human Resources Officer Nancy Long. "Many employees bring their dogs to work and attend the pet fair, week-long raffles, animal health and wellness vendors, and even participate in a talent show."
Long added that the best part of participating is that proceeds go to local animal rescue charities, saying, "We're proud to do our small part in promoting pet adoption by sponsoring this wonderful annual event at HDS."
Created by Pet Sitters International (PSI) in 1995, TYDTWDay encourages employers to experience the joys of pets in the workplace for one special day to celebrate the great companions dogs make and promote adoptions from local shelters, rescue groups and humane societies.
PSI is offering companies interested in participating in the day a free 2013 TYDTWDay Action Pack which can be downloaded from the event website at http://www.takeyourdog.com. The Action Pack, which serves as a planning guide for potential participants, addresses common management concerns, provides step-by-step instructions for planning an office event and includes a sample "dogs at work" policy and event participation forms.
PSI also shares these tips for participating dog owners to help ensure management, employees and pets are all comfortable on TYDTWDay:
1. Dogs should be kept on leashes, unless in the employee's office or cubicle. Even the best-behaved dogs may not understand that not everyone loves puppy kisses or pouncing pooches. Respect co-workers' space by keeping your dog leashed when outside of your office or cubicle. Co-workers who want to pet your dog will likely come to you.
2. Employees should use baby gates to prevent dogs from leaving their offices or cubicles unsupervised. In the middle of an important sales call or during a visit from a business partner is not the best time for Fido to dash out of your office. Give your dog space to roam in your office and avoid an unplanned escape by using a baby gate.
3. Specific areas, such as bathrooms or employee dining halls, should be designated as dog-free. Even on TYDTWDay, there will be limitations to where your dog can visit. Work with management and co-workers to decide which areas will be dog-free.
4. Have a back-up plan for taking the dog home if he is not comfortable in the work environment. While most dogs love spending a day at the office, it may be that your dog is not ready to enter the workforce. Have a back-up plan, such as a spouse, friend or professional pet sitter who can take care of your pet if he needs to leave the office.
"We find that companies that participate in their first TYDTWDay celebration enjoy it so much, they tend to participate year after year," said PSI President Patti Moran. "Employees have fun, businesses garner local media attention and most importantly, awareness is raised for pet adoption."
PSI does not track the day's participation rates because companies are not required to register in order to participate. However, the association's tracking tools indicate that overall involvement around the event grows each year. Last summer, more than 367,000 visitors explored http://www.takeyourdog.com to learn more about participating in the annual event—a nearly 200 percent increase in site traffic from the previous year.
Businesses and pet owners interested in learning more about TYDTWDay are encouraged to download the free 2013 TYDTWDay Action Pack at Takeyourdog.com. To learn more about event creator PSI, or to locate a professional pet sitter in your area, visit http://www.petsit.com.