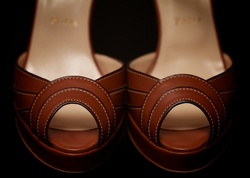 Fort Lauderdale, FL (PRWEB) July 8, 2010
After five years spent creating the web's most active fashion forum devoted to authentic designer handbags, PurseBlog.com is thrilled to announce the launch of a new website dedicated to another very popular accessory: designer shoes.
TalkShoes.com is the latest addition to the PurseBlog family of sites and their first that will focus solely on designer shoes. Like PurseBlog.com, PurseBlog Savvy, PurseBlog Forum and BagThatStyle.com do for handbags, TalkShoes.com will feature celebrity shoe styles, exclusive photos and giveaways, first looks at new collections, and daily editorial on designer shoes ranging from the more affordable to the more expensive brands.
"Many of our readers have a deep love and appreciation for all kinds of designer accessories, not just handbags," said Meaghan Mahoney Dusil, Founder and Editor of PurseBlog. "We felt that it was time to bring some focus to designer shoes. They are, after all, the handbags' much-loved and equally important counterpart!"
In its first few weeks, TalkShoes.com has reviewed the latest shoe styles from designers including Christian Louboutin, Jimmy Choo, Givenchy, Loeffler Randall, Prada, and Elizabeth and James. The site is already reaching over 1,000 people daily.
About PurseBlog
PurseBlog.com is an online fashion magazine and social network dedicated to designer handbags. Combining a unique editorial with an active forum of over 250,000 registered members, PurseBlog is the premier online destination for purse enthusiasts to learn about the latest handbags trends and styles from designers including Marc Jacobs, Chanel and Balenciaga. PurseBlog's family of sites includes Purse Forum, PurseBlog Savvy, BagThatStyle.com and TalkShoes.com.
# # #