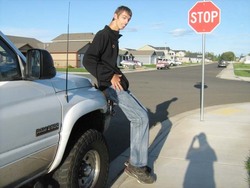 I never imagined he'd actually have pants that fit.
NewYork, NY (PRWEB) September 9, 2009
USA's Brenden Adams suffers from the only known case of Chromosome 12 inversion in the world, a disorder that tells his body to start growing but never bothers to tell it to stop. Doctors expect Brenden to top eight feet before he stops growing. Neil Fingleton is over seven feet tall and proudly bears the title of tallest actor in the world.
When you're the UK's tallest man and the boy destined to be one of the tallest men in the world, picking up a new pair of pants isn't as easy as running down to WalMart and grabbing a pair off the shelf. Both Neil and Brenden found the answer to their clothing challenge with Make Your Own Jeans.
"People are not mass produced," says Make Your Own Jeans' Harry Shahari. "Why should their jeans be? Our custom products meant an end to the inconvenience of constantly wearing jeans that leave six inches between hem and ankle for people like Neil and Brenden."
"Brenden wears the jeans proudly and looks nice too," says Brenden's mother. "I never imagined he'd actually have pants that fit."
"I'll never have to worry about my clothing needs now that I have found 'Make Your Own Jeans' ", says Neil.
For a society that prides itself on catering to the individual it's taken a long time for the fashion industry to figure out that not everyone fits into a cookie cutter size. Not all of those people living outside the manufacturer's mold have thousands of dollars to spend on custom tailored clothes. Make Your Own Jeans established their own line of affordable, high quality custom jeans for every size, everywhere.
Powered by a savvy team of experienced designers, Make Your Own Jeans has been. featured by the National Marfan Foundation and various other Tall and Plus Size Clubs. The company is living proof that custom made jeans, shirts and suits are slowly but surely finding a home in closets across the globe.
"No matter what shape or size a person is, Make Your Own Jeans can create a custom-designed pair of jeans, sport coat (and) suit…that will be attractive, appropriate and comfortable," says Shahari. "Our customers…come back again and again."
For more information on Make Your Own Jeans visit them on the web at http://www.MakeYourOwnJeans.com
###