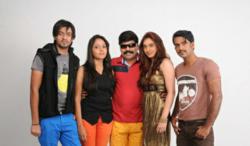 Music composer Yuvan Shankar Raja does music for the movie directed by Jo V
Chennai, Tamil Nadu (PRWEB) March 05, 2013
Movie 'Naalu Perum Romba Nallavanga' is a movie produced by I Cinemas. Power Star Srinivasan does a role in the movie. The movie has debutant actors as Balaji, Yasin and Thirupathi.
Debutant actresses Sneghal and Disha play heroines in the movie. Debutant actor Afsar Khan from Aurangabad is to do a villain role. Suresh does an important role in the movie.
Three youngsters who are full-fledged thieves indulge in robbery, betrayal and are thus acquainted with many vices. They join hands with Power Star who does not know any of those vices. The movie's story is about whether the thieves make amends or whether Power Star is influenced by them and turns thief.
Debutant director Jo V does the story, screenplay and dialogues. He was assistant director to director RV Udhaykumar and has also been a dialogue writer. It is to be noted that Jo V is the younger son of Ilayaraja's elder brother Paavalar Varadharajan.
Yasin Haveli from Belgaum, Karnataka does one among heroes and is also a producer for the movie. The other hero for the movie, Balaji is associate producer.
Music composer Yuvan Shankar Raja does music for the movie directed by Jo V. There are five numbers in the movie.
The movie's story is intertwined with comedy and the movie would stick to the present trend. The movie shooting is to commence the coming March 14th and is to be held in locations as Udhagamandalam, Tuticorin, and Andaman.