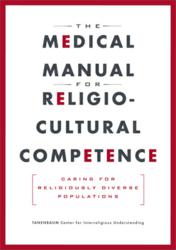 Four in 10 patients are making health care decisions based on religion.
New York, NY (PRWEB) January 31, 2013
If four in 10 patients are making health care decisions based on religion, how are doctors incorporating their patients' religious beliefs into treatments at hospitals around the country?
Wendy Cadge, associate professor of sociology at Brandeis University, set out to discover how hospitals respond to religion and spirituality. Cadge interviewed and shadowed nurses, doctors and chaplains at major academic medical institutions to learn more about how they address religion in their work.
This month, The University of Chicago Press released Paging God: Religion in the Halls of Medicine, Cadge's book, which is based on her multi-year study.
"I learned that health care providers have different ideas about whether and how to incorporate religion and spirituality into their medical practice," she said. "Despite the Joint Commission's guidelines requiring hospital staff to accommodate patients' religious beliefs, many doctors, nurses and chaplains view the accommodation in vastly different ways, making it difficult to provide the best possible care."
One organization, the Tanenbaum Center for Interreligious Understanding, a New York City-based non-profit, is offering solutions to this dilemma. Tanenbaum educates health care professionals by providing them with practical tools that help integrate patients' religious needs into medical treatment plans.
"Doctors and nurses don't have to be experts in every religion," said Joyce S. Dunbensky, Tanenbaum's CEO, "but they have to know when patients' religious beliefs are affecting the way they care for their patients and are impacting health outcomes. They have to work with their patients' decisions, including those that involve religion—just like they'd work around diabetes, or address poverty or any other variable that affects their patients' health."
Tanenbaum's Health Care program includes an online continuing medical education course for physicians, trainings, workshops, grand rounds, and The Medical Manual for Religio-Cultural Competence.
One of Tanenbaum's Health Care resources is its online continuing medical education course, Improving Religio-Cultural Competence in Patient Care. This 60-minute audiovisual course, accredited by the New York Academy of Medicine for one 1.0 AMA PRA Category 1 credits, helps physicians and other health care providers understand how cultural practices and religious beliefs may impact patient decision-making, treatment options and the provision of patient-centered care.
Another Tanenbaum resource is The Medical Manual, a guide for all providers who want to understand the critical ways religion often drives their patients' choices and health care decisions.
As Cadge concludes in Paging God, health care organizations need to narrow the spirituality gap among health care staff and between providers and patients. By narrowing this gap medical practitioners will become more compassionate, patients and their families will avoid unnecessary anxiety and hospitals will provide more culturally appropriate care.
And, as Dubensky noted, "It can result in more successful outcomes that will reduce costs!"
# # #
Wendy Cadge is an associate professor of sociology at Brandeis University in Waltham, Mass. For more information, and to read the first chapter of Paging God, visit WendyCadge.com.
The Tanenbaum Center for Interreligious Understanding is a secular, non-sectarian organization that promotes mutual respect with practical programs that bridge religious difference and combat prejudice in areas of health care, workplaces, education and armed conflict.
NOTE TO EDITORS & WRITERS: To obtain a review copy of Cadge's Paging God and/or Tanenbaum's The Medical Manual, contact Bob Johnson or Mike Ward.