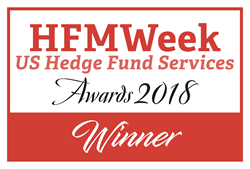 NEW YORK (PRWEB) September 24, 2018
Tannenbaum Helpern is thrilled to announce that the firm is the winner of HFMWeek's US Hedge Fund Services Awards 2018 for "Best Boutique Law Firm". HFMWeek's annual US Hedge Fund Services Awards recognize providers of services and solutions to the hedge fund industry that have demonstrated exceptional innovation, customer service and performance over the past 12 months. The judging process is rigorous with a diverse panel of 20 judges from leading hedge fund COOs, CFOs, CCOs, GCs and CTOs, representing over $250 billion of hedge fund assets.
"We are delighted to receive this award," said Michael Tannenbaum, co-chair of Tannenbaum Helpern's Investment Management practice. "Often our firm is an attractive alternative to global law firms for large institutional and private fund clients as well as emerging managers seeking superior 'large firm' quality service with fee efficiency, a high degree of responsiveness, individual client attention and cutting-edge analysis and advice."
"I am extremely proud of our attorneys who dedicate themselves to helping our private fund, family office, wealth management and investor clients navigate tax issues, compliance guidance and regulations, and the multitude of issues that arise in connection with investments in traditional as well as new strategies including cannabis, cryptocurrency, ESG and Impact and litigation finance," said Wayne Davis, co-chair of the firm's Investment Management practice. "The award is an acknowledgement of our quality legal work."
About Tannenbaum Helpern Syracuse & Hirschtritt LLP
Since 1978, Tannenbaum Helpern Syracuse & Hirschtritt LLP has combined a powerful mix of insight, creativity, industry knowledge, senior talent and transaction expertise to successfully guide clients through periods of challenge and opportunity. Our mission is to deliver the highest quality legal services in a practical and efficient manner, bringing to bear the judgment, common sense and expertise of well trained, business minded lawyers. Through our commitment to service and successful results, Tannenbaum Helpern continues to earn the loyalty of our clients and a reputation for excellence. For more information, visit http://www.thsh.com or follow us on Twitter: @THSHLAW.
Media contact:
Nancy Wu
Tannenbaum Helpern Syracuse & Hirschtritt LLP
212-702-3147
wu(at)thsh.com