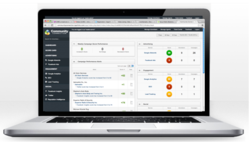 With TapClicks we are now able to track campaign performance at a very deep level and across any of our customers...
Cupertino, CA and North Conway, NH (PRWEB) March 12, 2013
TapClicks, the digital presence company, today announced the launch of a major digital-agency, marketing analytics initiative in Massachusetts, New Hampshire and Maine as part of a strategic partnership with Community Connection.
TapClicks and Community Connection partnered to take the analytics platform live using the robust capabilities of the TapClicks Analytics SaaS system. Every thread of every campaign – from banner ads to Facebook pages – are tracked and scored to reveal the most effective way to deploy every marketing dollar.
"With the best-in-the-business digital-marketing analytics from TapClicks we are now able to track campaign performance at a very deep level and across any of our customers," said Jason Capodanno, chief operating officer for Community Connection. "By knowing what marketing efforts are driving sales for our local clients we are able to prove value in their investment and optimize every thread of a campaign over time," he said, adding that "we are on constant alert for ways we can drive new customers and more sales to our clients!"
Community Connection started 27 years ago as a small marketing company. It has since grown into a leading regional publisher of directories with 43 print books in 57 towns. Today the Community Connection team also provides extensive digital-marketing services including search-engine marketing, web sites, digital coupons, web videos and daily-deal programs for local small businesses.
"The Community Connection relationship has been a great exposure to the New England business community, working in close collaboration with Jason's innovative team," said Noah Jacobson, vice president of strategic partnerships for TapClicks. "Jason and his crew totally get the importance of performance-based marketing," added Jacobson. "They are on a mission to help local businesses compete against a growing number of internet-only competitors."
The TapClicks analytics dashboard brings into focus top-performing digital campaigns, from search-marketing and banners to reputation management and social/mobile marketing. The TapClicks platform is directly integrated into leading digital marketing platforms ranging from Google AdWords, Facebook, Twitter, FourSquare, all leading banner servers and email-newsletter services.
In November, the company introduced TapClicks Analytics 2.0. With the latest release the company has again raised the bar on marketing, analytics and optimization in the digital realm.
TapClicks provides digital-marketing solutions, performance analytics, turnkey digital packages for resale, and fulfillment for its clients as needed. Founded in 2009, TapClicks operates out of offices in Silicon Valley, Canada, India and Mexico.
For more information, please visit http://www.TapClicks.com or contact Michael Mertz at 408-725-2942 or info@TapClicks.com.