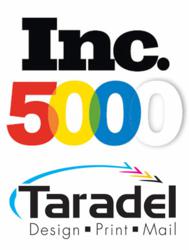 This honor speaks to the talent of our team and our approach to innovation. We test, we take chances, and we're always moving forward.
Glen Allen, VA (PRWEB) August 21, 2012
Powered by an industry-leading Every Door Direct Mail™ program, Taradel LLC announced today its 5th consecutive honor as an Inc. 5000 company. The Inc. 5000 list highlights the most successful for-profit companies in America, and is noted for its strict performance-based qualification requirements.
Jim Fitzgerald, Taradel founder and CEO, was thrilled to make the list for the 5th consecutive year, a feat rarely obtained by even the most successful organizations.
"This honor speaks to the talent of our team and our approach to innovation. We test, we take chances, and we're always moving forward. It's not easy but it certainly is fun! We're very proud of the recognition."
Taradel, which owns and operates EveryDoorDirectMail.com, had 3-year growth of 31%.
The company is best known for providing small business owners, entrepreneurs, and community-based organizations with the same precision direct marketing tools used by their big-box competitors, essentially leveling the playing field.
The company's success has led to deep interest from major national advertisers as well as international organizations in search of new self-service methods of doing business with advertisers. A print advertising company at its core, Taradel has embraced and developed new uses for modern digital platforms that integrate all forms of media, with streamlined, user-minded, self-service interfaces.
Fitzgerald added, "There's a lot going on in the marketing space. Competition is intense as decision-makers are deluged with offers from digital marketing providers. We've taken a slightly different approach by developing a digital platform to deliver an effective, but up until recently, notoriously difficult traditional medium, direct mail. By streamlining a web-based process we can now offer mailing services at a price that almost guarantees a positive ROI for our clients."
Taradel has climbed hundreds of spots this year to capture a rank of #4135 on the list of Inc. 5000 companies, a jump from #4418 the previous year. Taradel has hired additional management and customer service personnel in support of design, printing, and Every Door Direct Mail™ services.
# # #
Taradel LLC, founded by Jim Fitzgerald in 2003, is headquartered in Glen Allen, VA with offices located within the Innsbrook Office Park. The company designs, prints, and distributes traditional and digital media, across multiple platforms, for small business owners and national corporations.
For more information, visit http://www.Taradel.com or http://www.EveryDoorDirectMail.com.