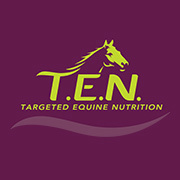 Targeted Equine Nutrition - because your horse is an individual!
Milton Keynes, England (PRWEB) March 24, 2013
The equine-nutrition company Ten Supplements has just launched a new website aimed at helping horse lovers find the right supplements to keep their horses fit and healthy.
The website features a database of supplement ingredients and an A-to-Z guide which explains what each ingredient does and why owners may wish to use a supplement containing it. The explanations are detailed but easy to understand even for those without a background in nutrition.
In addition to the supplement guide, there are articles on subjects such as hoof care and choosing the right vitamins and minerals for a horse.
T.E.N stands for Targeted Equine Nutrition. Team T.E.N was founded by registered nutritionist Clare Barfoot BSc (Hons), RNutr. Barfoot had been searching for quite a while to find better ways of taking care of horses. She teamed up with equine vet Pat Harris MA PhD, VetMB, DipECVCN, MRCVS and then recruited Verity Beaton BSc (Hons) to become Team T.E.N's Product Manager.
Together they formulated a whole range of supplements to help solve some of the most common problems form which horses may suffer. Verity's horse, Amilas Tomtom, is an honorary Team T.E.N. member and a valued part of the family. Amilas Tomtom has personally eaten lots of feed as part of detailed tests to ensure that all of the supplements are palatable.
The Ten Supplements team understands that different horses have different needs. Young, growing horses have vastly different nutritional needs to older horses and a performance horse will have different requirements to one that is simply ridden recreationally. Why feed horses generic supplements when they are anything but generic animals?
The new T.E.N. nutrition website features all 31 of the supplements offered by the company. They are divided into various categories: joints, digestion, hoof, behaviour, electrolytes, skin and coat, immunity, lifestyle, weight management, muscle, wellbeing and respiratory.
Supplements are also sub-divided into Challenged, Healthy and Senior to aid in the decision as to which ones to choose. The Challenged category of supplements is designed to support a horse during periods of heavy riding activity, while Healthy is for day-to-day use and Senior supplements are for older horses.
The new website can be viewed at tensupplements.co.uk. Any owner requiring advice as to which supplements are best for particular horse may wish to call T.E.N and speak to one of the equine nutritionists for expert advice.