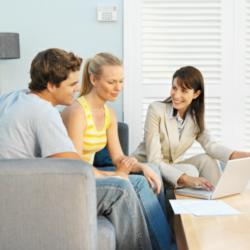 Tarzana, Ca (PRWEB) March 11, 2013
Closing costs are possibly the least understood aspect of Tarzana real estate. But as any experienced Tarzana real estate agent knows, closing costs can add up, and there are ways for buyers to save financially on closing cost transactions. Red Blue Realty's expert team offers some tips for saving on closing costs when purchasing Tarzana homes for sale.
Many home buyers are surprised when they see the first estimate of cash needed at closing. However this estimate can be reduced substantially through careful planning, assisted by a professional Tarzana real estate agent, such as a member of Red Blue Realty's skilled staff. In fact a major goal of home buyers should be to minimize these costs.
Closing costs include all items to be paid on the date of closing including any service provider fees, and mortgage points. How to reduce these costs?
Tip One - Reducing out of pocket costs
These are fees for items such as appraisals, buyer credit reports, attorney fees, couriers, title insurance, title searches, loan underwriting, recording of a deed, and tax services. While there is little variance of these charges among mortgage companies and lenders, buyers should be careful to watch out for costs charged by an escrow company. A buyer can choose an escrow company that can handle both a mortgage loan and as a seller representative even if it is not the escrow company of choice by the lender. Having a escrow company capable of performing all the functions at a reasonable price can save money substantially.
Tip Two - Closing costs of Pre-paid items
These costs depend on the type of property and the month and time of year of closing. For example, at closing, a home owners insurance policy must be provided and shown as paid for a full year. One pre-paid item that can be reduced is pre-paid interest. By closing on the last rather than the first day of the month, there is no pre-paid interest due, and a buyer can save hundreds of dollars. In other words, pre-paid items can be reduced in cost or eliminated, depending on when the closing date is set.
Tip Three - Mortgage Points
The most expensive element of closing costs are mortgage points. A point is equal to one percent of the mortgage loan amount. It is actually pre-paid interest that reduces interest rate. For example,, with closing cost mortgage portion built in, monthly mortgage payments will be less, based on the amount of a mortgage.
While the best choice for mortgage payments depends on a buyer's needs, closing costs can be cut substantially simply by choosing the zero point option on the loan program, and saving thousand of dollars right away. This will increase monthly mortgage payments, but usually not dramatically.
Monthly mortgage insurance payments may also be negotiable and help to reduce closing costs substantially.
Website: http://www.redbluerealty.com
Email: Contact(at)redbluerealty(dot)com
Phone Number: 1-(855) 66-RBREALTY or 1-(855) 667-2732