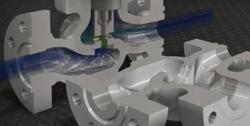 ... Simulation 360 Lunch & Learn attendees will be entered to win a new Kindle Fire.
Novi, MI (PRWEB) March 25, 2013
Tata Technologies, a global leader in Product Lifecycle Management (PLM) and Engineering Services, and a premier Autodesk Gold Partner in Manufacturing specialized in Autodesk Simulation 360 and Consulting, will host a Simulation Lunch & Learn event for manufacturing clients, in Cleveland, Ohio, March 27, from 12:00 -1:15 p.m. ET, demonstrating the next generation of simulation tools built for mechanical engineers. There is no charge for the workshop, but advance registration is necessary.
At this event, Tata Technologies Simulation experts will offer insights into the right simulation tools to empower engineering teams via:

Full scope flow, thermal, and stress analysis capabilities
Cloud integration offering virtually infinite computing power
Intuitive CAD-Driven interface built for mechanical engineers
The solution you need at a fraction the cost of traditional simulation tools
Autodesk Simulation 360 provides a new generation of cloud integrated simulation tools that deliver unrivaled computing power at an affordable price. Proven fast, accurate, and flexible technology offers engineering teams a better way to predict, optimize, and validate designs early in the development process.
Who should attend?
Mechanical Engineers, Industrial Engineers, 3D Engineering Designers, Manufacturing Engineering Managers, Industrial Manufacturers, Tooling Manufacturers, and any individual responsible for 3D engineering and design in manufacturing, will find valuable information at this event.
To register for this Lunch & Learn and reserve your seat, click here. Lunch will be served. Reservations are limited.
Share this registration link with other colleagues and friends: http://www.tinyurl.com/tataSIMcleveland.
Lunch & Learn attendees will be entered to win a new Kindle Fire.
About Tata Technologies
Tata Technologies, founded in 1989, is a global leader in Engineering Services and Product Development IT services to the global manufacturing industry; enabling ambitious manufacturing companies to design and build better products.
Tata Technologies is a company of innovators, specialists in the design engineering space, who apply cutting-edge technology to provide a competitive advantage to customers in the manufacturing sector. The company is a strategic partner for developing complete vehicles (VPD group), engineering subsystems and components (E&D), managing the NPI process and collaborative engineering (PLM), and tying together information created and used throughout the extended manufacturing enterprise (ESG).
Tata Technologies is headquartered in Singapore, with regional headquarters offices in the United States (Novi, Michigan), India (Pune) and the UK (Coventry). The company has a combined global work force of more than 6,500 employees serving clients worldwide from facilities in North America, Europe and the Asia-Pacific region. http://www.tatatechnologies.com/autodesk.
For further information, contact:
Sales and Marketing:
Laura Campbell, Marketing Manager
+ 1 248 426 1861
laura.campbell(at)tatatechnologies(dot)com
Media:
Daniel Saad, Director of Communications – NA
+ 1 248 426 1841
daniel.saad(at)tatatechnologies(dot)com
Autodesk is a registered trademark of Autodesk, Inc. and/or its subsidiaries and/or affiliates, in the USA and/or other countries. All other brand names, product names, or trademarks belong to their respective holders.