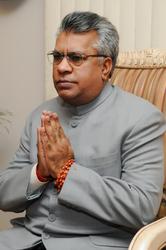 Edison, NJ (PRWEB) December 3, 2008
Tathaastu: So Be It, the spiritual and holistic healing magazine presents 2 free workshops on Spiritual Awakening, Astrology and Vaastu (the ancient Indian science of home and space alignment).Chamunda Swamiji, the well-known Vedic astrologer and spiritual healer, will conduct the workshop on spirituality and astrology. Pt. Gopal Sharma, world's leading Vaastu expert will present Vaastu principles and offer advice for optimizing your home and office.
The first Free workshop will be held on Friday, December 12 at the Hindu Temple in Sunnyvale, California , USA . And the second one on Friday, December 19 at the Sringeri Community Center in Toronto, Ontario.
We live in stressful times. Economic, social and emotional worries affect our lives on a day-to-day basis. Discover healing and bring out the latent energy and strength in you with Chamunda Swamiji. Swamiji has an illustrious background. A devout worshipper of Maa Kali, he has learned the immense powers of healing through spirituality. It was at Mt. Abu in Rajasthan that he received grace of Swami Divya Anandji and was initiated by him into the name "Chamunda Swami." He is a strong believer in the cultivation of pure thoughts, mind and harnessing positive energy from the negative forces around us.
Vaastu is the ancient Indian science of direction and architecture that combines the elements of nature and balances them with man and home/work space. Pt. Gopal Sharma is a Vaastu expert for decades now. He has done extensive research in the fields of Vaastu, Feng Shui and Astrology, and has many books to his credit. He is the founder and president of the Institute of Vaastu & Joyful Living, and is in the process of establishing an international university in Rajasthan (India) with a mission to impart world-class education in Vaastu, Vedanta and Astrology.
Tathaastu: So Be It focuses on 'Eastern Wisdom for the Mind, Body & Soul.' As part of its endeavor to promote peace, serenity and good health through holistic means, the magazine had organized a well-attended yoga camp earlier in July 2008 in Washington D.C., with the world-famous yoga guru, Swami Ramdev; and another yoga camp with Swami Ramdev in Toronto, Canada in 2007. Both events were attended by thousands of people and were sold-out events. Tathaastu: So Be It also plans to conduct meditation and Ayurveda workshops as well in the near future.
The two luminaries, Chamunda Swamiji and Pt. Gopal Sharma, have come together for a series of 'Spiritual Awakening, Astrology & Vaastu' events around the country. They will also be available for consultations. For further information on the Free Workshops, or to book an appointment, please contact Georgy Bhaala at 732 794 0001.
###