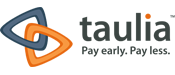 We have been enthusiastic about Taulia's market opportunity since we invested in the Series A funding
San Francisco, CA (PRWEB) July 26, 2011
Taulia Inc., the leading cloud-based dynamic discounting solution provider in the SAP® space, today announced it has closed its Series B round of funding totaling US $8.5 million. Existing investors Matrix Partners and Trinity Ventures invested above their pro-rata to increase ownership and were joined by new investor DAG Ventures, who lead the round. Taulia will use the additional funding to aggressively expand marketing, sales and implementation teams in both Europe and the US, as well as to acquire new engineering talent for product development.
"We have been enthusiastic about Taulia's market opportunity since we invested in the Series A funding," said Josh Hannah, General Partner at Matrix Partners. "Taulia's visionary dynamic discounting solution is the right offering at the right time. Corporate treasurers can invest excess liquidity risk-free for double digit returns, while small business suppliers gain access to much needed funds. The market immediately validated this value proposition, and we are excited to increase our investment in the Series B round."
Taulia provides dynamic discounting solutions and supplier portals to Fortune 500 companies. With the Taulia Invoicement® Suite, these large organizations can save millions of dollars annually by enabling dynamic payment terms and on-demand payment acceleration for their suppliers, in return for additional discounts. For suppliers, the Taulia Supplier Portal offers the ability to accelerate invoice payment on-demand, thus eliminating the need for costly receivable financing or credit card borrowing. The supplier portal also reduces collection cost and removes the need for inquiries by providing 24/7 visibility and comprehensive self-services - all free of charge.
"At Trinity, we invest in teams of people, not just technologies," said Noel Fenton, Co-Founder and General Partner of Trinity Ventures. "Taulia's management team has been successful once before with AP automation provider Ebydos, and at Taulia they once again managed to turn every productive customer into a positive reference. These developments give us reason to be bullish about Taulia's future prospects."
Since Taulia's Series A round of funding, the company has expanded its product offering and deepened its expertise. With Jeff Teem hailing from Ariba and Matt Wright coming from OB10, two industry veterans have joined Taulia in vice president (VP) roles during the first quarter. In June, the company acquired cash-flow management company, billFLO, and retained founder and CEO Ian Sweeney as vice president. Most recently Steve Lance, former vice president of finance at SugarCRM, also added another VP role toTaulia, rounding out the executive management team.
"At DAG Ventures, we value product excellence and strong traction," said Greg Williams, Managing Director of DAG Ventures. "Taulia has demonstrated both and impressed us by adding four new Fortune 500 customers to its portfolio in June alone. We are thrilled to lead the company's Series B round of funding."
The Series B round of funding augments the US $3.5 million Series A funding Taulia raised less than a year ago in November 2010. Since then, Taulia's faster-than-anticipated growth has garnered significant interest from new investors, resulting in a larger round closed at an earlier date than originally planned.
"The combined introduction power of Matrix, Trinity and AngelList enabled Taulia to engage in a very short time with partners at multiple, hand-selected VC firms for its b-round," said Bertram Meyer, CEO of Taulia. "Amongst all funds interested, DAG Ventures was selected due to its ability to act quickly, its convincing SaaS portfolio and its flexibility in solving the funding needs of its portfolio companies".
About Taulia
Headquartered in San Francisco, California, Taulia is a solution provider specializing in Software-as-a-Service (SaaS) solutions that help Fortune 500 companies including Pfizer and Coca-Cola Bottling Company Consolidated to reduce their total spend. Taulia's customers achieve double-digit returns on their cash positions by optimizing their financial supply chain and payment terms with their suppliers. For more information, visit http://www.taulia.com.
About DAG Ventures
DAG Ventures, headquartered in Palo Alto, CA, is a venture capital partnership investing in and helping outstanding entrepreneurs create leading, long-term companies across a range of markets. With roots from the 1980's in cable TV, infrastructure, media, and wireless industries, the partnership today is privileged to work with world-class entrepreneurs as they build tomorrow's leaders in the information technology, energy, and life science sectors. For more information on DAG Ventures, visit its website at http://www.dagventures.com.
About Trinity Ventures
Founded in 1986, Trinity Ventures, a boutique firm, partners with passionate entrepreneurs to transform revolutionary ideas into reality. With over USD 1 billion under management, Trinity Ventures was founded on the principle of personal engagement and mutual respect with the entrepreneurs we fund. Trinity Ventures focuses on early stage technology ventures with a particular emphasis on digital media, Internet services, mobility, security and software markets.
Trinity Ventures has invested in more than 100 ventures, including such leading companies as Affinity Labs (acquired by Monster.com), Aruba Networks, Bix (acquired by Yahoo!), Blue Nile, Crescendo Communications (acquired by Cisco), Extreme Networks, Forte Software, IntruVert Networks (acquired by Network Associates), LoopNet, Modulus Video (acquired by Motorola), Network Alchemy (acquired by Nokia), Photobucket (acquired by News Corporation), SciQuest, Speedera Networks (acquired by Akamai Technologies), Starbucks, Sygate Technologies (acquired by Symantec) and Wall Data.
About Matrix Partners
Matrix Partners is a premier venture capital firm that has generated outstanding returns for over three decades. By focusing on early-stage investments and emphasizing long-term relationships with entrepreneurs, the firm has delivered several of the industry's top performing funds of all time. Matrix Partners has offices in Waltham and Cambridge, MA; New York, NY; Palo Alto, CA; Mumbai, India; and Beijing and Shanghai, China. Matrix Partners has invested in several game-changing, industry-leading businesses such as Apple Computer, Sandisk, Veritas, Sycamore Networks, Phone.com, Starent Networks, Netezza, JBoss and Gilt Groupe.
# # #