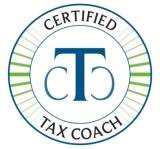 (PRWEB) March 19, 2013
Tax expert Robert A. Gambardella is a CPA and Certified Tax Coach who belongs to an elite group of nationwide tax planners trained and certified by the American Institute of Certified Tax Coaches. Recognized for his ability to save his clients thousands of dollars that would otherwise be wasted on unnecessary taxes, Robert Gambardella and financial advisor, Joel Johnson, CFP®, Managing Partner of Johnson Brunetti are joining forces to offer complimentary mini tax planning sessions that open up new opportunities for everyone.
"Earning the designation of a Certified Tax Coach denotes financial expertise, tax planning excellence and outstanding customer satisfaction. Matching one of our expert tax advisors with a leading financial organization, such as Johnson Brunetti is a winning opportunity for everyone," says Dominique Molina, co-founder and president of the American Institute of Certified Tax Coaches.
As the owner of Concierge Tax Services, LLC, Robert Gambardella implements his CTC training in proactive tax planning and specializes in finding deductions, credits, loopholes and strategies to help his clients pay less tax. By customizing a client's specific situation with the Tax Code, Robert and his team get the best possible outcome for his client's tax and accounting needs.
Johnson Brunetti is a premier retirement planning firm serving the Connecticut area. They help Connecticut retirees get the financial guidance and service they need and deserve to plan for their financial independence. Through careful analysis, Johnson Brunetti recommends quality solutions which meet their client's goals and objectives. They apply their distinct perspective to each client's individual circumstances, resulting in increased cash flow, building net worth and minimizing tax liability.
To schedule a free mini tax planning session with Robert, to see if you are paying more than your fair share in taxes, visit http://www.conciergetax.com/.
About The American Institute of Certified Tax Coaches
The American Institute of Certified Tax Coaches is an independent, not-for-profit corporation which trains and certifies tax professionals in the philosophy of proactive tax planning. The organization, which administers the Certified Tax Coach designation, upholds a strict Code of Ethics to ensure the highest standards of integrity and excellence among its members. The organization also offers a network of resources, ongoing education and joint venture opportunities to its members. Founded in 2009 in San Diego, CA by Ms. Dominique Molina, CPA and Edward Lyon, JD, Certified Tax Coach is quickly becoming the premier organization for helping business owners and investors keep more of what they earn.