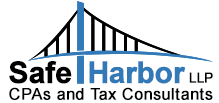 San Francisco is an efficient, fast-paced technological city.
San Francisco, CA (PRWEB) March 06, 2013
As the April 15th tax deadline looms, Safe Harbor LLP, a top San Francisco tax service, is proud to announce the the release of an informative statement on how to avoid tax refund delays. Many San Francisco clients are concerned about delays in receiving their personal or business taxes due to the stalemate in the federal government over tax policy.
"San Francisco is an efficient, fast-paced technological city," explained Chun Wong, Managing Partner at Safe Harbor LLP. "Our clients are very anxious to get their tax refunds and frustrated with the stalemate in Washington and delays at the IRS with processing forms and refunds."
For more information, go to:

Reasons for Delays in Tax Refunds
Tax refunds may be delayed for many reasons. As in most years, errors in the processing of a return, a refusal to file electronically, or the use of payment by check vs. direct deposit may all delay a refund. In 2013, however, Congress has added new worries for the taxpayer. First, the IRS was forced to delay certain tax forms because of the budget stalemate at year's start. Second, the sequestration is making it possible that the IRS will have to lay off or furlough employees, meaning fewer employees will be on hand to process returns. Both factors are at work.
The informative statement on the Safe Harbor LLP website gives some tips and recommendations to San Francisco residents on how to speed up their tax refunds amidst this climate of uncertainty.
IRS Circular 230 Notice
The Internal Revenue Service requires Safe Harbor LLP to inform the reader that any tax advice contained in this correspondence cannot be used for the purpose of avoiding penalties under the Internal Revenue Code or for promoting, marketing or recommending to another party any transaction or matter addressed.
About Safe Harbor CPAs – a Professional CPA Firm in San Francisco
Safe Harbor LLP is a CPA firm that specializes in accounting and tax services for individuals and businesses throughout the San Francisco Bay Area and greater California. Safe Harbor CPAs helps both individuals and businesses with tax preparation, IRS audit defense, and audited financial statements. The firm prides itself on friendly yet professional service and utilizes state-of-the-art Internet technology to provide quality customer service.
Safe Harbor CPA
http://www.safeharborcpa.com
Tel. 415.742.4249