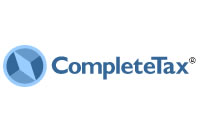 Using online tax software with e-filing is the fast and easy way to get your taxes done.
Riverwoods, IL (Vocus/PRWEB) January 13, 2011
With IRS e-filing starting this week, taxpayers can prepare and electronically file their tax returns using CompleteTax® and receive their tax refund via direct deposit in as few as eight days.
Nearly 70 percent of taxpayers electronically filed their tax returns last year and this is expected to increase as the IRS promotes e-filing and more people use tax programs like CompleteTax to prepare and e-file their tax returns online.
"Using online tax software with e-filing is the fast and easy way to get your taxes done," said Gary Lundberg, Product Management Director for CompleteTax. "CompleteTax guides users through a series of simple questions and identifies credits and deductions that help taxpayers reduce their taxes, performs and double-checks all the calculations and allows customers to print or e-file their return."
Many taxpayers are concerned about the IRS processing delay affecting returns from taxpayers claiming itemized deductions, the Higher Education Tuition and Fees Deduction or the Educator Expense Deduction.
Despite these IRS delays, taxpayers can immediately begin using CompleteTax to prepare and complete both their federal and state income tax returns. Those affected by the IRS processing delays will want to finish their taxes and be in the queue for any refund they're expecting as soon as possible. Also, nearly all states let taxpayers e-file their state returns separately from their federal return, so any state refund will be available as soon as possible.
"There is no need to wait to finish your taxes," said Lundberg. "CompleteTax is completely up to date with all the right forms and schedules for tax year 2010. The faster you finish, the sooner you can have your refund and move on to doing the things you really enjoy."
Maximum Refund Options
CompleteTax not only offers maximum refund, satisfaction and price lock guarantees, it also pioneered the option of allowing taxpayers to split their refund into separate accounts. For example, customers can choose to have a portion of their refund deposited into their savings account, checking account, an IRA retirement account or other accounts of their choosing.
"Many people appreciate tools that make it easier for them to save on their own," said Lundberg. "They like the idea of being able to spend some of their tax refund as well as save some to add to their nest egg – all with a simple few clicks in the CompleteTax program."
Free Tax Prep for Those Who Owe the IRS Money
Any taxpayers who end up owing the IRS on their 2010 income tax return can use CompleteTax for free to prepare their 2010 federal tax return.
"No one likes to finish their taxes only to find out they owe money to the IRS," said Lundberg. "CompleteTax customers who owe get a break. They won't have to pay the preparation cost for their federal tax return."
Lundberg advises these taxpayers to still e-file to get their taxes done quickly. Through CompleteTax, they also can set the date they want to pay their taxes via an automatic withdrawal from their financial institution directly to the IRS or pay the IRS by credit card, so they don't have to print and mail a check.
Additional Free Tax Prep Options
Throughout this tax season, CompleteTax also is providing free online tax preparation and filing using its Premium federal product for taxpayers who were unemployed during any part of 2010 or who switch from TurboTax®, TaxACT® or H&R Block® online. CompleteTax Basic also offers free tax preparation for taxpayers using the most commonly used tax forms and schedules.
About CompleteTax
CompleteTax is the fast, easy and accurate online tax preparation software solution for taxpayers who want the confidence that their taxes are done right and that they're getting the biggest refund. CompleteTax walks through every step necessary to prepare and file taxes online, including filling out all the right forms. With CompleteTax, taxpayers can either file taxes online (e-file) or print and mail their return. Learn more at CompleteTax.com and connect with us on facebook.com/completetax, twitter.com/completetax and youtube.com/completetax.
CompleteTax online tax preparation and e-filing software for consumers is developed by CCH, a Wolters Kluwer business. CCH (CCHGroup.com) is a leading provider of tax, accounting and audit information, software and services. Wolters Kluwer is a leading global information services and publishing company (http://www.wolterskluwer.com).
CONTACT:
Mary Jung, 773-429-0940,
Leslie Bonacum, 847-267-7153,
# # #