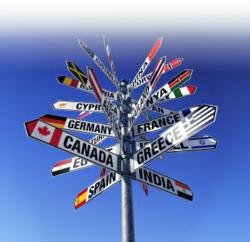 TaxConnections is an evolutionary tax platform for consumers and tax professionals
La Jolla, CA (PRWEB) March 17, 2013
TaxConnections Inc. announced today expansion of tax professional services into 65 countries with over 1,400 registered tax professional members. The site has experienced a consistent monthly growth rate since last year's company Beta launch. Every day more business is being conducted nationally and internationally given consumers need to have access to a wide range of specialized tax expertise worldwide. Consumers now have access to tax professionals through a free online tax resource known as TaxConnections Worldwide Directory of Tax Professionals.
Most consumers are not sure where to find the tax expertise they need. "Now consumers can access TaxConnections innovative platform to find a tax professional who meets their specialized needs. Our tax professionals are part of a worldwide tax community who can now be discovered and introduced through one interactive tax community platform, providing tax solutions for consumers around the world" stated Kat Jennings, CEO and Founder of this innovative tax services start-up.
TaxConnections also provides Worldwide Tax Blogs that attracts talented tax bloggers who share their tax knowledge and expertise on tax issues covering a variety of trending topics. Jennings added, "These additional value-added components set us apart from other tax related sites and gives our visitors more tax intelligence than any standard search engine would deliver. It's above and beyond what anyone has previously conceived".
This rapidly growing internet startup continues to grow in popularity with users worldwide. Over the past year the site had visitors from 149 countries as tax professionals are eager to gain the exposure and tax branding this site provides for them. "TaxConnections is an evolutionary tax platform solution for consumers and tax professionals worldwide", states Jennings.
Tax Connections was founded in 2010 by Kat Jennings. The internet startup is based in La Jolla, CA and provides online marketing and branding services for tax professionals worldwide. Tax professionals subscribe to become members of the interactive Worldwide Directory of Tax Professionals. The site also provides consumers with online access to tax professionals around the world with a wide range of tax expertise. Consumer memberships are always free. For more information, please contact info(at)TaxConnections(dot)com or visit http://www.TaxConnections.com.