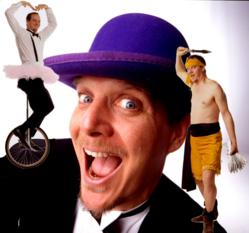 working with Olivier is inspiring
Seattle, Washington (PRWEB) April 12, 2013
Twisted Cabaret stars Frank Olivier and Paul Nathan are Coming to Seattle for a limited run. This week they took time out of rehearsals to perform at Seattle's Moisture Festival. Crowds were delighted to see Frank who is a long time favorite and to meet Paul Nathan who had never performed at Moisture Festival previously.
Frank Olivier's Twisted Cabaret and Pandemonium Vaudeville Show Seattle Style is a hilarious, action packed cabaret with amazing feats of magic, knife-throwing, juggling, burlesque, acrobatics and Cirque / Zinzanni style acts.
The plot is simple. It's the night of the big comedy variety show, and the stage is set. The theater is packed, but the tour bus with all the performers has broken down. Now Olivier must pull off the show of his life, and perform all sixteen acts himself, aided only by his Flynch, his loyal hunchback assistant who recently said "working with Olivier is inspiring."
The show is family friendly, but not geared towards children. Ages 8 and up.
Hale's Palladium is the home to the Moisture Festival (largest comedy and variety arts festival in the U.S.) It's a full functioning theater built into the warehouse of the Hale's Ales Brewery. Laughter and beer mix together with the smell of hops, to create a fun, funky, offbeat vibe. Snack foods and of course fine microbrewery beers and ales, including the newest addition: Twisted Cabaret Ale, are available in the theater.
Frank Olivier ("Wickedly funny!" NY Times) has been seen on The Tonight Show, as well as America's Got Talent, Ellen, and HBO's Just For Laughs. He is a Moisture Festival favorite. Older fans may remember him from his act in Broadway touring show Sugar Babies (with Mickey Rooney and Ann Miller).
Paul Nathan plays the role of Flynch. He's been seen on HBO, MTV, and Star Trek Voyager, as well as in his own "I Hate Children Children's Show", voted best children's show at Edinburg Festival.
"Comedic Genius!" - Las Vegas Magazine
"A one man reincarnation of vaudeville with a decided edge!" - S.F. Bay Guardian "Insanely funny, outrageously multi-talented!" S.F. Examiner
Press Release: Frank Olivier's Twisted Cabaret & Pandemonium Vaudeville Show
Coming to Seattle: Hale's Ales Palladium Theater - 4301 Leary Way NW, Seattle 98107
May2-26,2013 - Sixshowsaweek.
Thurs. 7:30 - Fri. and Sat. 7:30 & 10:30 - Sun. 3:00 Tickets ($14 - $35) available at: http://TwistedCabaret.com
"Laugh out loud! If demented vaudeville is a religion, this man is a high priest!" - San Jose Mercury News.