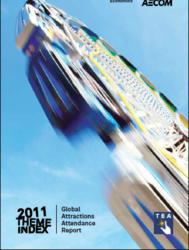 "Top attendance performers Universal Orlando and SeaWorld San Diego are a lesson on reinvesting to beat the business cycle." -- John Robinett, AECOM

"The Top 20 theme parks in Asia surpassed 100 million attendance in 2011." -- Chris Yoshii, AECOM
Burbank, CA (PRWEB) May 30, 2012
Note: This release was revised as of 6/15/2012 to reflect updated information in the TEA/AECOM 2011 Theme Index.
The Themed Entertainment Association (TEA) and AECOM have published the TEA/AECOM 2011 Theme Index: Global Attractions Attendance Report. This definitive, calendar-year study of attendance at major theme parks, amusement parks and water parks is an established, annual resource provided free of charge and widely used by land developers, creative professionals, the travel industry, the business community, the media and theme park fans. The Theme Index is the collaboration of TEA, international non-profit for the visitor attractions industry, and the Economics practice at AECOM, global provider of technical and management support services.
The full report is published online on the TEA website and the AECOM website.
The 2011 figures point to economic recovery and increased globalization of the themed entertainment industry. Asia's Top 20 parks for the first time surpassed 100 million attendance; Asia now represents 1/3 of the global visitor attractions market and could in time surpass the US. The quality of the guest experience at Asian attractions is also rising fast. In North America, Universal Studios Orlando and SeaWorld San Diego were attendance standouts, and Orlando tourism has rebounded. In Europe, hospitality packages and holiday specials helped theme parks maintain patronage and profitability.
"In the 20 years since TEA was founded, the international attractions industry which it serves has had its ups and downs - but overall it has grown and our members have grown with it," says TEA president Rick Rothschild. "The landscape is more international; attractions and audiences are more diverse; and a new generation of creative storytellers and technical specialists is emerging alongside the veterans. The TEA/AECOM Global Attractions Attendance Report is one of the critical resources our association provides to help the industry thrive - an annual snapshot to mark important trends, to facilitate networking and the exchange of information, to celebrate excellence and to foster business."
PREVIEW - Quotes & Key Figures, below:
Quotes from the economics experts at AECOM:
IN THE AMERICAS, BOLD REINVESTMENT PRODUCES DRAMATIC GROWTH
John Robinett, Senior Vice President - Economics, AECOM
"Outstanding performers Universal Orlando and SeaWorld San Diego are a lesson on how to apply reinvestment to beat the business cycle. Overall, including Harry Potter, North America grew at 2.9% in 2011; subtract Harry Potter and it grew at 1.6%. Operators should take this to heart and apply their imaginations."
Brian Sands, AICP, Vice President - Economics + Planning, AECOM
"SeaWorld San Diego opened the new One World One Ocean show with Shamu and Baby Shamu, as well as Turtle Reef, and experienced double-digit (13%) attendance growth.
"For top parks in Latin America, estimated total attendance grew modestly by 0.7 % to 13.4 million in 2011. Leading the pack were Parque Mundo Aventura (up 22%) and El Salitre Magico (up 15%) in Bogota, Colombia."
ASIA PASSES THE 100 MILLION MARK, WITH ROOM TO GROW
Chris Yoshii, Global Director, Asia, AECOM
"In Asia, the future outlook remains very positive with strong growth in the middle class, urban populations looking for family outings and tourists eager for new experiences. Theme parks experienced very strong growth in 2011, with the Top 20 surpassing 100 million attendance, representing an overall increase of 7.5 percent - despite the disruptions of the Tohoku Earthquake in Japan.
"Significant capital improvements were strongly rewarded by the market: Ocean Park and Disney in Hong Kong (up 28.7% and 13.5% respectively), Lotte World in Seoul (up 4.1%), Nagashima Spa Land in Japan (up 30.3%) and Dinosaur Park Changzhou, which saw the greatest growth at 52.2%... Southeast Asia is quietly growing a substantial attractions industry, particularly water parks. Universal Studios Singapore had a strong opening year, with room to grow."
John Robinett
"With 103.3 million (to North America's 127 million) Asia represents about one-third of global theme park attendance. The gap will close substantially when Shanghai Disney opens. By adding 5-10 more theme parks, Asia will probably catch up to North America and then surpass it."
EUROPE HOLDS ITS OWN
David Camp, Vice President - Europe/Africa/Middle East, AECOM
"This year in Europe almost all of the Top 10 parks grew in attendance, including Disney (up 4.7%), Efteling (up 3.1%), Tivoli (up 7.2%) and PortAventura (up 15.5%)... The majority of the Top 20 parks in Europe now have hotels, busy with guests who often visit the park on 2 days for each overnight stay. It's become an important business driver."
KEY FIGURES:
TEA/AECOM 2011 Theme Index:
Global Attractions Attendance Report
196.3 million: Total attendance for Top 25 worldwide parks, +3.8 % from 2010
127 million: Total visits to Top 20 theme parks in North America, +2.9 % from 2010
103.3 million: Total visits to Top 20 Asian theme parks, +7.5 % from 2010
57.8 million: Attendance for Top 20 European theme parks, +2.8 % from 2010
23.6 million: Top 20 worldwide water parks attendance in 2011, +8.2 % from 2010
13.4 million: Total visits to Top 10 Latin American theme parks, +0.7 % from 2010
14.4. million: Total visits to Top 15 Asian water parks, +10.3% from 2010
Top 5 theme parks worldwide, ranked by attendance: Magic Kingdom at Walt Disney World (Orlando), Disneyland (Anaheim), Tokyo Disneyland, Tokyo Disney Sea, Disneyland Park at Disneyland Paris (full Top 10 with numbers are in the complete report)
Top 5 theme park groups worldwide, ranked by attendance: Walt Disney Attractions, Merlin Entertainments Group, Universal Studios Recreation Group, Parques Reunidos, Six Flags (full Top 10 with numbers are in the complete report).
For additional figures and analysis of global theme park attendance, previous editions are available in the TEA Publications Archive.
ABOUT THE REPORT
The 2011 TEA/AECOM Global Attractions Attendance Report identifies the top commercial theme parks and waterparks around the world and reflects their performance for the calendar year. Global attendance data are broken down by geographic region, by chain and by type of venue. The report is a valuable business reference and resource for the visitor attractions industry, developers and the media, and widely read among the community of theme park fans. It is available free of charge from TEA and AECOM.
AECOM obtains the figures used to create the TEA/AECOM Theme Index through statistics furnished directly by theme park operators, financial reports, the investment banking community, local tourism organizations and other sources. The global market is studied as a whole, and its main regions are also studied separately: The Americas, Europe and Asia. There is also a table of the top water parks in the world and in the United States and Asia, and of the top international group operators.
ABOUT TEA
The TEA (Themed Entertainment Association) is an international nonprofit alliance founded in 1991 and based in Burbank, Calif. TEA represents some 7,000 creative specialists, from architects to designers, technical specialists to master planners, scenic fabricators to artists, and builders to feasibility analysts working in more than 780 firms in 40 different countries. TEA presents the annual Thea Awards and the TEA Summit and hosts the annual SATE conferences (Story, Architecture, Technology, Experience) in both Orlando and Europe. TEA produces a variety of print and electronic publications, including the annual TEA/AECOM Theme Index, TEA Project Development Guidelines and TEA Annual & Directory. Visit TEA: on the web at http://www.TEAconnect.org.
ABOUT AECOM
AECOM is a global provider of professional technical and management support services to a broad range of markets, including transportation, facilities, environmental, energy, water and government. With approximately 45,000 employees around the world, AECOM is a leader in all of the key markets that it serves. AECOM provides a blend of global reach, local knowledge, innovation and technical excellence in delivering solutions that create, enhance and sustain the world's built, natural, and social environments. A Fortune 500 company, AECOM serves clients in more than 130 countries and had revenue of $8.2 billion during the 12 months ended March 31, 2012. More information on AECOM and its services can be found at http://www.aecom.com.