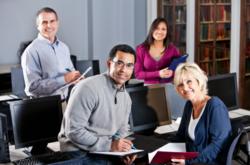 New York, NY (PRWEB) March 05, 2013
The National Financial Educators Council has launched a comprehensive survey to better understand the relationship between financial capabilities and student loan debt. Educators, teachers and those that work with youth are invited to participate in this survey.
This survey solicit responses from teachers and educators to get a better understanding on the factors that influence a student's decision making process. The demand and supply side survey will measure a perceived connection between student loan debt and one's personal finance knowledge level.
Edward Halteman founder of Survey Design & Analysis created the surveys for the NFEC. On the supply side, the NFEC and Survey Design & Analysis are soliciting financial professionals, educators and personal finance experts to provide best practices input. On the demand side, a survey is being conducted to better understand the degree of financial awareness in the target population.
The NFEC had previously worked with Survey Design & Analysis on an international project where over 1000 face-to-face interviews were conducted. A detailed assessment report was produced and the resulting program that was based off the report is planned to reach over 500,000 people living in rural poor areas.
[Edward Halteman is an expert in survey design and statistical analysis. Ed has a PhD in statistics yet has a down-to-earth approach that is both practical and easy to understand. Ed's expertise extends from survey design and analysis to complex statistical analysis. Ed pioneered the use of online surveys in industry almost 15 years ago and writes for a blog on survey best practices. Through research in graduate school and 20 years in industry, Ed has designed and analyzed surveys across a wide variety of disciplines including retail, manufacturing, quality, sales and marketing, opinion research, sociology, customer satisfaction, employee satisfaction and more.
The National Financial Educators Council is a social enterprise organization whose mission is to empower people of all ages with the knowledge necessary to make financial decisions that can improve their lives, now and in the future. The NFEC brings together the best talent in the financial literacy industry and has formed a Personal Finance Speakers Bureau to highlight top speakers from around the globe.