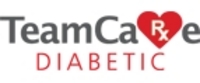 Our #1 concern is our customers' well being… we want to provide our customers the best quality services and products at a very affordable price.
Miami, FL (PRWEB) January 19, 2011
During these tough economic times, as the number of people with diabetes and without proper insurance increases, it has become more important than ever to find high quality affordable diabetic medical supplies.
TeamCareDiabetic.com offers a convenient and secure source for discounted diabetic testing supplies, and has been designed to provide a user-friendly experience. TeamCare takes extreme pride in their customer service, and their agents are available toll free or will respond to electronic inquiries within 1 business day if not sooner.
"Our #1 concern is our customers' well being… we want to provide our customers the best quality services and products at a very affordable price," says Mark Schneider, President and Owner of TeamCare Pharmacy Services. "We treat our patients like family."
Each product includes detailed images and descriptions so customers will know exactly what they are ordering. Customers can feel good about their diabetic supplies they are purchasing, as there is a place to read and provide comments and reviews. In addition, the prices to buy diabetic supplies are up to 40% lower than typical retail prices.
In celebration of the launch of the TeamCare Diabetic website, all new customers can receive a free glucose meter (with a lifetime guarantee) with the purchase of at least 3 boxes of 50 test strips. Also, all orders over $25 receive free shipping throughout the continental US. All products are delivered right to your door, and come with a no-risk guarantee.
TeamCare stands behind their products and services. If at any time a customer has any issues with their meter, they can simply contact TeamCare and will quickly package and ship a new meter at no charge. TeamCare is very proud of our ability to offer diabetic meters with a lifetime guarantee.
The TeamCareDiabetic website offers an easy and secure way to purchase high quality, affordable glucose meters and diabetic supplies that will be shipped directly to your door and backed by a no-risk guarantee and support by detailed-customer service.
For more information, visit TeamCareDiabetic.com or call us toll free at (800) 896-6358.
About TeamCare Pharmacy Services:
Established in 1997, TeamCare Pharmacy Services has provided Health Care Providers a multitude of diabetic supplies, home infusion therapies services, and injectable medications all of which support patient care cost-effectively in an alternative outpatient environment. TeamCare Pharmacy Services was created based on over 120 years of experience in the industry. TeamCare has provided patients glucose monitors, strips, lancents, insulin, insulin syringes and many more diabetic supplies that enable users to control their disease, and help live a longer, healthier life while keeping treatment and complication costs down.
###