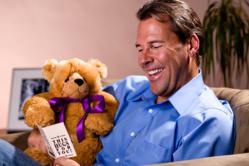 We're the only company that specializes in teddy bear hugs for grown-ups.
Boca Raton, FL (PRWEB) March 27, 2012
Florida-based The Serious Teddy Bear Company has launched "Send-A-Hug!" -- a one-of-a-kind teddy gram service that helps people reach out and hug a grown-up who needs one, whether that person is across the street, the city, or anywhere in the US.
Customers simply visit The Serious Teddy Bear Company's website, and have the company send out a specially designed teddy bear Hug Package for grown-ups to someone special who needs or deserves a hug.
There are currently 45 unique Hug Packages available, with the most popular being Feel Better Hugs, Birthday Hugs, Thinking of You Hugs, and Love You Hugs. Plus, there are over 85 heartfelt goodies that can be included in each Hug Package.
The teddy bear, aptly named Hugs, also totes a message that reads: "This bears my hugs to you, wish I could be there to hug you in person." Customers can also add a personal note if they wish.
Our unique teddy bear gifts service fills a huge void in the marketplace," commented Robert Schneider, president of The Serious Teddy Bear Company. "Every other company sells teddy bears for children. We're the only company that specializes in teddy bear hugs packages for grown-ups."
Schneider also points out the health and wellness benefits of his company's unique teddy bear gift service.
"It's widely known that hugging a teddy bear promotes comfort and reduces stress," he added. "I spent several years volunteering and visiting different nursing homes, and came to realize just how much people need a simple hug more than anything else. Just one hug dramatically changes a person's mood for the entire day. And in today's world, grown-ups need a hug as much -- or even more -- than some children. Our teddy gram is the ideal `feel better gift,' and it's a welcome alternative to an impersonal and unoriginal box of chocolates or flowers. It's the gift that keeps on giving."
Customers can purchase and send a teddy gram now by visiting The Serious Teddy Bear Company's website at http://www.theseriousteddybear.com. A portion of all proceeds go towards cancer and Alzheimer's research.
For more information or media inquiries, contact Robert Schneider at (800) 763-3248 or press@theseriousteddybear.com.
About The Serious Teddy Bear Company
At The Serious Teddy Bear Company, the team is not always serious. In fact, customers who visit their Florida headquarters will find quite the opposite – an enthusiastic staff that can't help but crack a smile as they lovingly assemble each personalized gift, knowing that they are offering clients a truly world-class teddy bear. However, there is one thing the company is very serious about. After 30 years in the retail business, they are extremely passionate and committed to a truly personal customer experience. It's why so many of their gift recipients become hug-givers, and why word-of-mouth has always been their best marketing tool. Learn more at http://www.theseriousteddybear.com.