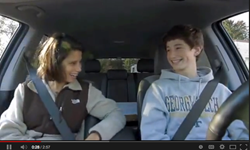 Taking proactive steps ... can reduce anxiety while improving their teens' driving skills.
Beachwood, Ohio (PRWEB) September 25, 2014
Although just about every parent can remember with fondness their first drive behind the wheel of the family car – either alone once licensed or with one of their parents in the passenger seat while being taught how to drive – most parents dread when their first child starts to drive.
The fear of accidents, damaged bodies, destroyed automobiles, and escalating insurance rates just proves too much for the nervous systems of parents. Cell phones and the distraction of texting only adds more worry to the minds of parents who fear their children will harm themselves, the beloved family car, or an innocent bystander somehow while learning how to drive or when initially licensed.
Your Teen Magazine for Parents covers the neurosis-inducing issue of parental anxiety over teen driving with a series of content pieces intended to help parents put teenage driving in perspective.
As Your Teen Editor-in-Chief Susan Borison says, "After all, every parent was once a teenager learning to drive him or herself, so that fresh perspective of remembering their own experiences can help them to trust the brains and reflexes of their soon-to-be-adult children in this important phase of their development. Keeping such experiences in mind, as well as taking proactive steps that can reduce anxiety while improving their teens' driving skills, is the best way to handle this period in their lives. We will help them to do just that."
Starting off with a tongue-in-cheek article on the use of social media apps that help parents manage their children's driving experiences, Mindy Blum's piece "My Teenager Is In The Driver's Seat," gives parents interesting ideas about methods for keeping tabs on their motorized teens. It's available here:
http://yourteenmag.com/2014/06/snapshot-yet
There's also a candid and refreshingly intimate YouTube video created by Your Teen Publisher Stephanie Silverman that covers her and her son's very first driving lesson together. It may bring back fond memories, or give fledgling parental instructors some ideas on how to guide a driving lesson for their eager teenager. Viewers can watch it here:
https://www.youtube.com/watch?v=EksQKOgriNU&list=UUWf3K7Hnoc_bKruChXcigQg
Lastly, Your Teen Magazine for Parents proudly presents a 23-minute podcast or one-hour video produced in conjunction with WKYC TV in Cleveland, Ohio, along with Scott Robertson - Teen Instructor at Drive Team, and Anne Marie Hayes - author of "3 Keys to Keeping Your Teen Alive."
"Parents - Teach Your Teens to Be Better Drivers" may be just what the doctor ordered to help parents cope with this nerve-wracking time in their teens' lives, and can be access here:
http://yourteenmag.com/2013/12/podcast-teaching-your-teens-to-master-driving.
Your Teen hopes this teen driving-centered content will help its audience cope better and more efficiently parent maturing children taking to the roads along with thousands of other teenagers every day.
Given how teens use technology - even in cars - parents also may be interested in the Your Teen webinar: "Digital-Savvy Parenting: The Good, the Bad, and the Ugly" at 9 p.m. EST on September 30, 2014.
Register at http://bit.ly/YTTechWebinar
Anyone who is unavailable at that time can register to automatically receive the link to the video.
About Your Teen Magazine
Your Teen Magazine for Parents addresses the challenges inherent in raising teens and helps parents of teens to continue the journey toward the goal of successful parenting. In the magazine format, parents can post questions, offer personal tactics, and hear the different perspectives of professionals, other parents and teenagers on relevant topics. Your Teen hopes to ease the worry of parenting teens in today's modern world.
Your Teen is available at http://www.yourteenmag.com/subscribe and in select Barnes & Noble Bookstores.