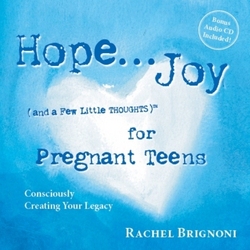 Hope...Joy (and a Few Little Thoughts) for Pregnant Teens: Consciously Creating Your Legacy
Winter Park, FL (PRWEB) July 10, 2008
Postpartum Depression is just another dose of reality when it comes to teenage pregnancy.
According to the Centers for Disease Control and Prevention (CDC), teenage mothers have a higher than usual risk of developing postpartum depression. This is a form of clinical depression that can occur within the first year of giving birth and is characterized by feelings of sadness, loss, anger and frustration that often interfere with a new mother's everyday life.
Rachel Brignoni knows first hand the daily challenges of teenage pregnancy and the feelings of hopelessness that are often associated with postpartum depression.
"Being a new mom can be challenging at any age but as a teenager it is extremely difficult," says Brignoni.
A mother at the age of seventeen, Brignoni understands the struggle that over 435,000 new adolescent mothers will face each year in the U.S. alone according to the CDC. She also recognizes their critical need for emotional support.
"Depression is a disease of isolation; ironically, the support of others became my life line," recalls Brignoni.
Now at the age of thirty-four, Brignoni is a Fortune 100 Executive and Certified Life Strategies Coach, who recently authored her first book titled, "Hope…Joy (and a Few Little Thoughts) for Pregnant Teens: Consciously Creating Your Legacy." The book has been recognized as a Foreword Magazine 2007 Book of the Year Award finalist as well as a finalist of the National Indie Excellence 2008 Book Awards in the categories of young adult non-fiction and best new non-fiction.
"I felt as though I had a responsibility to write this book. A responsibility to share what I've learned with other young moms and the people that are supporting them," says Brignoni.
Trista Kovach is one of those supporters. A Licensed Professional Counselor and Idaho State Coordinator for Postpartum Support International, Kovach specializes in helping women cope with postpartum depression, and many of her clients are often teenage mothers.
According to Kovach, "Hope is the most important thing we can instill in young people and this book does just that. Too often teens are unable to see that their future can be positive when the present looks grim. Rachel is very honest about the challenges surrounding teenage pregnancy, however, she is a wonderful example of how finding hope brought success to her life both in motherhood and her inner self."
Kovach recognizes the book as a valuable resource and plans to provide a copy for each of her young clients.
"What I liked most about this book, beyond establishing hope, is the idea that we have control over our thoughts - that the positive can always be found in even the most negative of thoughts. Rachel has written a very motivating and easy-to-read book that will be beneficial for all pregnant teens to read," says Kovach.
Brignoni dedicates the book to the son she had at seventeen and hopes to provide a sense of understanding as well as a reason to hope for those who face teenage motherhood.
To learn more about the book, "Hope...Joy (and a Few Little Thoughts) for Pregnant Teens: Consciously Creating Your Legacy" by Rachel Brignoni, visit http://www.hopejoythoughts.com.
Published by Secret Key Publishing, LLC and distributed nationwide through Baker & Taylor, Inc or direct from the publisher, ISBN No. (Hc) 978-0-9795626-0-0 / (Pbk) 978-0-9795626-1-7.
###