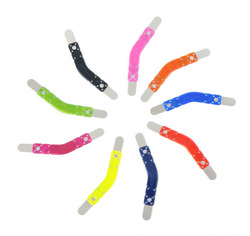 BrytonPick is a portable oral hygiene device that quickly removes food debris from between teeth in any situation
Palm Beach Gardens, FL (PRWEB) December 13, 2008 -
When it comes to oral hygiene, most teenagers cringe at the thought of flossing on a daily basis.
Not only is it a hassle, but it's not thought of as cool by most people.
Teenagers want look good and be popular, and they will do almost anything to be seen as cool. Until now, there has been no way to make flossing seem like a hip thing to do. Many teens wear braces, or Invisalign, in an attempt to make themselves more attractive; but in the process, often their oral hygiene begins to suffer. Flossing is even more difficult when a person wears braces since the process becomes even more repetitive and time-consuming. Most teens who wear either of these devices do not take the extra time out of their day to worry about their oral hygiene. More often than not, teens do not think about the consequences of poor oral hygiene or simply do not care.
For this reason, Toothguard Dental Instruments introduced a new product called BrytonPick FLOSS In Seconds that makes interdental cleaning not only quick and easy, but even fashionable. "BrytonPick is a portable oral hygiene device that quickly removes food debris from between teeth in any situation". All teens will find refuge in knowing that they will never again be embarrassed by having food stuck between their teeth.
Even teens, who wear braces or Invisalign, can now floss easily, several times a day, without feeling embarrassed. 'BrytonPick' is a much more socially acceptable device that looks great, in addition to working well.
Cleaning interdental spaces after eating or before socializing is is now a must and much easier task to do. Wearers of wired braces can slide the device from behind teeth, making the braces wires no longer a factor when it comes to cleaning interdental spaces.
This product is revolutionary because of its portable nature, its sleek design and ultra-flexible, germ-resistant cleaning system that offer ease-of-use that no other product in this genre has yet to match.
In addition to being extremely useful, BrytonPick is also very affordable. It can be reused for up to 30 days, making it perfect for everyday use. BrytonPick is also a recyclable product, making it environmentally friendly as well as user-friendly.
Toothguard Dental Instruments is promoting a new philosophy in the flossing industry. The creators of BrytonPick - FLOSS In Seconds believe that cleaning interdental spaces should not only be quick and easy, but that by making it more fashionable and appealing to the masses, more people will recognize the importance of oral hygiene.
The BrytonPick dental space cleaner is now available for purchase online and in selected retail stores. Promotional samples are offered online at http://www.brytonpick.com.
###