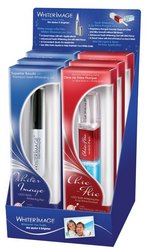 Vanity has continuity even in challenging times and these locations are ideal distribution channels for whitening products once they grasp the value proposition
Atlanta, GA (Vocus) January 20, 2010
Whiter Image, a leader in the $14 billion teeth whitening industry, is celebrating huge growth and success in 2009. In the relatively crowded teeth whitening arena, Whiter Image attributes its growth to focusing on the non-traditional salon, tanning, and beauty markets in addition to the company website to distribute uniquely branded products with outstanding quality, results and support.
"Vanity has continuity even in challenging times and these locations are ideal distribution channels for whitening products once they grasp the value proposition," says Keith Rodbell, Founding Partner.
Whiter Image's three teeth whitening products: The Whiter Image TOGO Teeth Whitening Pen, Chic-Flic TOGO Teeth Whitening & Lip Gloss Plumper Pen, and the Whiter Image Premium Prefilled Tray Kit have revolutionized teeth whitening in these industries and are also being carried by premier dentists in the dental teeth whitening market. "2009 was an outstanding year of building our brand and distribution and will continue to accelerate in 2010," says Founding Partner Brad Stevens.
January 2009 – The exclusive Whiter Image Prefilled Tray Kits become available with immediate success and revolutionize teeth whitening. Whiter Image launches with Planet Beach in West Canada to rave reviews and instant success. Whiter Image leverages technology to expand its one-of-a-kind dedicated account management and sales consulting program.
February 2009 – Whiter Image debuts the anticipated Chic-Flic TOGO Teeth Whitening & Lip Gloss Plumper pen, and clients quickly sell out of the product.
March 2009 – A 40+ location Northeastern salon begins carrying Whiter Image's teeth whitening products. One of the largest national tanning salon chains joins the Whiter Image team and sees success with its clientele.
April 2009 – Whiter Image goes to Hollywood! 3 A-List Hollywood Beauties tell Us Weekly that they all use the Whiter Image Chic-Flic TOGO Teeth Whitening & Lip Gloss Plumper Pen. Whiter Image launches in 2 more large regional chains in the U.S. and England.
May 2009 – The largest distributor in the spa industry adds Whiter Image to its catalog. Whiter Image introduces dynamic marketing displays for clients to increase sales. In continuing with its rapid international growth, Whiter Image forms a strategic partnership with a distributor in Belgium.
June 2009 – Multiple spa and beauty distributors begin carrying Whiter Image's teeth whitening products. Prestigious studio spa to the stars in Hollywood adds Whiter Image to their offering. Whiter Image launches in Dubai positioning itself to become a teeth whitening leader in the Middle East.
July 2009 – Whiter Image partners with one of the leading Sales Representation Teams in the beauty industry.
August 2009 – 23 new distributor accounts begin carrying Whiter Image products.
Whiter Image launches its new and easy-to-navigate website including an online store.
September 2009 – Whiter Image South Africa debuts with immediate success and an exciting marketing plan. Whiter Image negotiates with a Canadian dental distributor for national representation.
October 2009 – The Whiter Image Chic-Flic TOGO Teeth Whitening & Lip Gloss Plumper Pen is selected to be a gift for the stars at the Albuquerque Film Festival. Canadian distributor Silver Solarium launches the Whiter Image TOGO Teeth Whitening Pen. A major distributor in Poland joins Whiter Image's international team of beauty distributors.
November 2009 – Whiter Image grows its presence in the dental world by becoming available at two large regional dental practices. The Whiter Image TOGO Teeth Whitening Pen and The Chic-Flic TOGO Teeth Whitening & Lip Gloss Plumper Pen are chosen to be gifts at the American Music Awards. One of the top luxury hotel and spa chains begins carrying Whiter Image products with instant success.
December 2009 – Whiter Image welcomes three renowned dentists to its growing dental clientele. The West Coast Sales Representation Group opens in 3 major rocky mountain resorts with outstanding success and sales. The company begins development of a unique and simplified teeth whitening solution for the dental industry.
Whiter Image is looking forward to an even more successful 2010 in the teeth whitening and beauty industries. With existing accounts selling record numbers of product and new accounts opening everyday, Whiter Image is expecting another breakout year. Whiter Image publishes corporate updates regularly on its website.
About Whiter Image
The company primarily distributes whitening systems and retail products to premium accounts in the spa, salon, tanning, beauty, and dental markets both domestic and internationally. Whiter Image is a founding member of the Council for Cosmetic Teeth Whitening and a co-author of industry best practices with a reputation for outstanding results, affordability, and unsurpassed customer support.
###