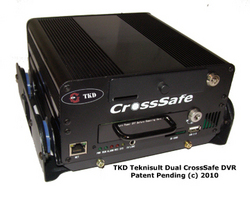 Teknisult confidently designs and develops industry specific mobile video security products for use in extreme commercial environments.
(PRWEB) October 5, 2010
Teknisult Enterprises Ltd., a technical consulting, design & procurement company, is proud to announce the release of CrossSafe, a new extreme environment video system which captures video for the processing of a ticket when a vehicle passes a stopped school bus with the stop sign extended. More than three years in development, CrossSafe technology uses patent-pending high-resolution cameras and a patent-pending dual DVR system to produce both tickets and court-quality license plate images. It is the first product of its kind available in North America, and effectively addresses a prominent child-safety concern.
Photo enforcement systems are widely used throughout North America, and have successfully reduced accident and fatality rates. Through extensive live pilot tests, Teknisult has found that the CrossSafe video system would similarly reduce stop sign running and potential collisions. Moreover, this fully-automated system allows school bus drivers to focus solely on their passengers' safety. They are not distracted by writing down the license plate number of every vehicle who fails to stop, as they are required to currently. The CrossSafe program as a whole, handles every aspect of the ticketing process, from recording the license plate number, to processing the violation, to sending the ticket to the driver.
Teknisult's CrossSafe technology operates exclusively on bus power and records only when the stop sign has been extended, to preserve privacy and to speed up processing. An additional feature allows the system's cameras to focus on several different lanes at once, which is ideal in urban settings or on multiple lane roads. Additionally, the CrossSafe Dual DVR also includes an On-Bus system for use by the schools themselves for On-Bus student and driver surveillance .
"We have been developing and providing extreme environment video products since 2002 and we now have an ideal solution for the stopped school bus drive by problem," said Teknisult President and C.E.O. Maurice Gregoire. "After three years of development, we have surpassed our expectations and the expectations of our clients and development partners regarding CrossSafe."
About Teknisult Enterprises:
Launched in 1984, Teknisult Enterprises now specializes in researching, developing and procuring products for the mobile video security marketplace. For more information about the company's services, as well as CrossSafe's specifications, please visit http://www.teknisult.com/index.html
###