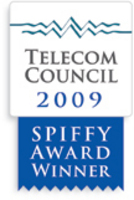 San Jose, CA (PRWEB) February 26, 2009
The Service Provider members of the Telecom Council of Silicon Valley today awarded 7 young telecom companies for their innovation, execution, management, and technologies at the annual SPIFFY Awards today in San Jose.
Members of the Service Provider Forum (SPIF) reviewed almost 100 startups at local Telecom Council meetings throughout 2008. Competition for these awards is stiff because all startups are screened by Telecom Council Steering Committees before they are selected to present to the SPIF or other Telecom Council forum meetings. Startups who present have alreay been identified as having ideas, relevance, and traction that most appeal to our carriers from around the globe. The nominees, online here, were announced in January.
Over 20 carrier members voted on 96 startup companies - and the winners of the 2009 SPIFFY Awards are:
1) The Edison Award for Most Innovative Start-Up goes to 4Home. The runner-up is Qik.
2) The Ground Breaker Award for Engineering Excellence goes to Morpho. The runner-up is Staccato Communications.
3) The Graham Bell Award for Best Communication Solutions goes to TruTap and Amika Mobile.
4) The San Andreas Award for Most Disruptive Technology goes to Bling Software. The runner-up is Azul Systems.
5) The Core Award for Best Fixed Telecom Opportunity goes to Brilliant Telecom. The runner-up is Zeugma Systems.
6) The Zephyr Award for Best Mobile Opportunity goes to Bling Software. The Zephyr Award runner-up is Avot Media.
7) The Prodigy Award for the Most Successful SPiF Alumni is 2Wire. The runner-up is JahJah.
8) The Fred & Ginger Award for Most Supportive Carrier goes to Swisscom for the active role of their Silicon Valley-based team in the telecom innovation scene. The runner-up is Intellect Partners for Telia Sonera.
Our SPIF members applaud each of these winners and runners-up for their contributions to the future of telecom, and The Telecom Council looks forward to promoting ongoing innovation in the telecom value chain and reviewing over 100 telecom startups in 2009.
About the Telecom Council
The Telecom Council is dedicated to connecting the region's critical mass of companies across the entire telecom ecosystem-big and small, fixed and wireless-with each other. With one goal in mind, to provide an arena to Connect, Communicate, and Collaborate, the Council supplies the network, tools, and events, which fuel the industry's research, ideas, capital, and human expertise. http://www.telecomcouncil.com
# # #