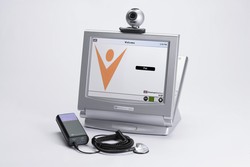 A Strategy of Home Telehealth for the Management of Heart Failure
Minneapolis (PRWEB) October 28, 2008
American TeleCare, Inc. (ATI), the leader in the development and application of intelligent monitoring and video-based telehealth solutions, announced that its InLife™ and LifeView™ Telehealth Systems are now in use to implement a heart failure outcomes study in Atlantic Canada. "A Strategy of Home Telehealth for the Management of Heart Failure" (STARTEL) aims to transform heart failure management across Canada from crisis response to proactive intervention. STARTEL is evaluating telehealth-supported care management of heart failure patients at home to determine whether this model improves clinical care and outcomes. The study is currently underway out of the Capital District Health Authority in Halifax, Nova Scotia in partnership with Atlantic Health Sciences Corporation in Southwestern New Brunswick, part of Regional Health Authority B.
"ATI's experience in supporting new models of clinical care with telehealth technology solutions has been valuable," said Miroslaw Rajda, M.D., principal investigator, STARTEL. "The LifeView Telehealth System from American TeleCare can be used for both remote monitoring of patients at home as well as interactive video visits. Both elements are essential to STARTEL, as we are studying whether or not patients who receive video intervention may have better outcomes than those who receive their home telehealth visits via a phone call with the nurse."
"The InLife and LifeView Patient Stations we are using in patients' homes are easy to use, and thus far, our patients are embracing this new method of care." said Michelle T. Currie, R.N., the project coordinator who is managing the operations of STARTEL in Nova Scotia.
"ATI is dedicated to supporting re-designed care processes that transform medical care by placing patients at the center of care teams that establish continuous healing relationships," said Randall Moore, M.D., M.B.A., chairman and chief executive officer, American TeleCare (ATI). "STARTEL is a model of care that overcomes geographic and organizational barriers to accessing clinical expertise, connects heart failure patients with clinicians, applies evidence-based care plans, and keeps patients' primary care physicians involved."
ATI's InLife Patient Stations are compact, easy-to-use monitors that gather information from questions that patients answer as well as objective clinical data from integrated medical peripherals (including blood pressure monitors and ATI's patented CareTone® Telephonic Stethoscopes). LifeView combines remote patient monitoring with interactive video for televisits. Care teams use LifeView Provider Stations to connect to Patient Stations, manage ongoing monitoring, conduct televisits, and carry out care plans.
STARTEL is evaluating a home telehealth care management system designed to enhance clinical care for heart failure patients who have difficulty with access to care. Unique in this model is that in addition to the use of protocol-driven, evidence-based interventions, primary care physicians are directly involved in the follow-up of patients. Telehealth-supported delivery of care to heart failure patients in Nova Scotia and New Brunswick is being compared to the current gold standard of care, which is care at a heart failure or heart function clinic.
After an initial assessment, patients are randomized to either a control treatment arm, where they continue to receive their heart failure care as per their normal routine, or to the home telehealth arm. Patients receiving home telehealth are further randomized into one of two telehealth treatment groups. The first group uses the InLife Patient Stations in their homes for remote monitoring, and these patients speak with nurses over the phone for their interactive bi-weekly visit. The second group utilizes LifeView Patient Stations for video televisits as well as monitoring, and nurses initiate scheduled, bi-weekly telehealth visits to assess clinical stability, medication compliance and adherence to sodium and fluid restrictions. Patients in both telehealth groups are prompted daily by their Patient Stations to take their blood pressure, heart rate and weight readings. Vital sign results, as well as patients' responses to questions presented to them on the Patient Stations, are sent automatically to the STARTEL server and accessed via LifeView Provider Stations. Telehealth nurses take appropriate actions to address any findings exceeding defined thresholds. Based on the results of daily monitoring and the clinical needs of patients, unscheduled visits may be initiated as well. Heart failure patient education is provided and reinforced as required.
The primary outcome measured is a composite of total all-cause hospitalizations and total mortality at one year. A wide range of secondary measures includes heart failure morbidity and mortality, cardiovascular hospitalization, total inpatient and outpatient costs, patient-reported quality of life, and patient satisfaction. The study is expected to be completed by November 2009.
"With shortages of nurses, family doctors and specialists across Canada, the STARTEL approach offers a way to extend the reach of limited resources while providing proactive care," said Rajda. "American TeleCare solutions are vital to our research efforts as we pursue our ultimate aim: healthier heart failure patients - at home, not in hospital."
Funding for STARTEL has been provided by AstraZeneca Canada Inc., Canada Health Infoway and the New Brunswick Heart and Stroke Foundation.
About American TeleCare
Founded in 1993, American TeleCare (ATI) is the pioneer of intelligent monitoring and video-based telehealth technology. With proven experience in clinical process re-engineering, ATI works with leading healthcare organizations to put their patients at the center of care teams and supports them with best-in-class solutions. ATI systems connect continuous healing relationships and deliver essential information for clinical and self care. Ongoing monitoring and constant care of patients at home keeps them connected to clinical expertise and may help prevent acute events. The results: 100-200 percent increases in provider productivity and 65-95 percent reductions in emergency room and inpatient costs - achieved as care teams help physicians watch over, improve and maintain their patients' health. For more information, visit http://www.americantelecare.com. Then call 800-323-6667.
###