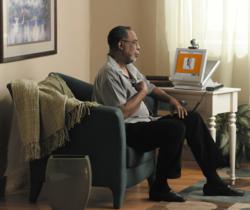 Adding real-time video visits in conjunction with remote monitoring will keep veterans better connected to expert clinical care.
Minneapolis, MN (PRWEB) April 20, 2011
American TeleCare, Inc. , the pioneer in the development and deployment of video-enhanced telehealth solutions, announced that it has been selected by the U.S. Department of Veteran Affairs (VA) as a supplier to support the VA's telehealth program. ATI, which received one of six national contracts the VA awarded, was also chosen to provide telehealth technology with real-time video capability.
"American TeleCare has been a telehealth solutions vendor to the Veterans Administration since 1999," said Randy Moore, M.D., M.B.A., chief executive officer, American TeleCare, Inc. (ATI). "ATI has been privileged to support the VA in caring for men and women who have served our country in the military. Adding real-time video visits in conjunction with remote monitoring will keep veterans better connected to expert clinical care."
The depth and detail of ATI's clinical content are at the heart of its solutions. ATI has expertise in developing condition-specific modules that include monitoring protocols, direct care plans, self-care guidance, and patient education templates. Care teams can modify instructions and education for individual patients.
ATI supports the VA with its most advanced telehealth solution: miLife™. Built upon a single modular, extensible platform, miLife offers real-time video telehealth capability together with remote monitoring. The system combines narrated instructions with answer verification, multi-media instructions on use of peripheral diagnostic devices, and on-screen volume and navigation controls to provide ease of use. In between video visit sessions, veterans take and transmit vital sign readings and other physiological measurements with integrated devices, answer self-assessment questions, and receive educational information about their disease. ATI's question set content encompasses the medical, nursing, physiological and pharmacological domains and includes collection of contextual information to interpret patient information. With miLife, no matter how far they may live from a VA clinic or hospital, veterans can have the assurance that their care team is keeping watch over their health and standing ready to reach out to them with video visits and just-in-time care.
Founded in 1993, American TeleCare, Inc. (ATI) is the American-owned and managed telehealth company. ATI pioneered the development and clinical application of video-enhanced in-home patient monitoring and direct care. ATI's telehealth solutions enable care teams to extend the clinical expertise that resides in clinics and hospitals to patients in their own homes. ATI solutions establish and sustain continuous healing relationships — keeping patients connected to expert clinical care to improve and maintain their health. ATI solutions offer unequaled clinical capability to remotely monitor, observe, assess, and stabilize patients to prevent disease exacerbation and thereby reduce hospitalization and readmission rates. For more information, please visit http://www.americantelecare.com or call 800-323-6667.
###